Marine mood, fresh air, warm spray,I want to experience such feelings as often as possible. Easy and simple to create it right at home, blue bathroom will help you create the right mood for every day.
Blue color is good in the design of any room and havethe test of time, most often, it is, of course, apply it to the bathroom, as a symbol of the element of water, and also due to the ability of a light-blue shades to deepen the space visually expand the wall, and "picking up" ceilings. It is necessary to take into account the following tips, if the bath in blue, this is exactly what you want to see in his apartment.
The dark blue color is important to complement the "heavydecor "is a mirror framed in bulk, forged nickel-plated accessories, also need to resolve the issue on the coverage. Correctly exposed light will create a complete image of the interior. This blue bathroom will fill you with peace, confidence and a sense of wealth.
Cyan (blue-green) color in combination withnatural materials such as wood, stone, shells, create an atmosphere of a sunny day at the beach, blue and your bathroom will always remind you of summer days and vacation.
Bath in blue soft blue hueperfectly fit and in hi-tech interior, with an abundance of simple lines, chrome and tiles, and the classic "boudoir" theme with white marble floors, soft lines and a plurality of fine gizmos.
Whatever shape or purchased your bath, in blue, or any other, let the element of water always fills you with joy and freshness.
Photos blue bathroom with bath acrylic in bright colors with the use of wood in the finish.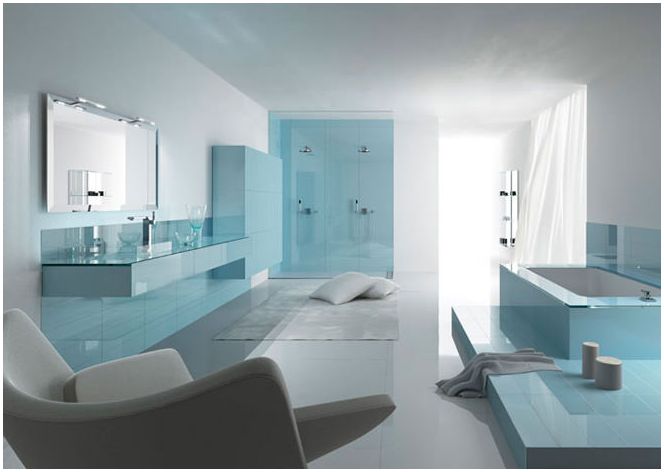 Photos blue bathroom with mosaic shower, bath and washbasin.
Photos blue bathroom with shower box and window.