Making a small bathroom can turna big problem. And, alas, it faces almost every owner of a model apartment. It's a real puzzle: how to arrange all the necessary plumbing and organize competent storage system in the room, which is slightly larger than a box from the refrigerator. We have learned from experienced designers some advice on this matter and are happy to share trade secrets with you!
Colors
Most of the tips are usually reduced to the fact thatAny small room should be submitted in a variety of light and unobtrusive colors. As a result, owners of small bathrooms Reassured buy the same white or light beige tile for wall and floor tiles. But the effect of crowding persists. But it feels as if you're in the pit. Use bright accents, a variety of textures (if all tiles of one color, then they should at least size is different in different zones), consider this decision as accent wall. If the white color will remain the basis of the color gamut processing, such experiments are of low-hazard.
Custom washbasin
The bathroom sink without unthinkable. And even in the smallest bathroom you can find a place for him, if not to give preference to the standard models, tulips and more compact version. Very often in such a situation is set angular washbasins. But if it is inconvenient, given the situation in the rest of the room, we recommend that you look at the small rectangular washbasins, like the one pictured. And you can organize a small bedside table or niche underneath.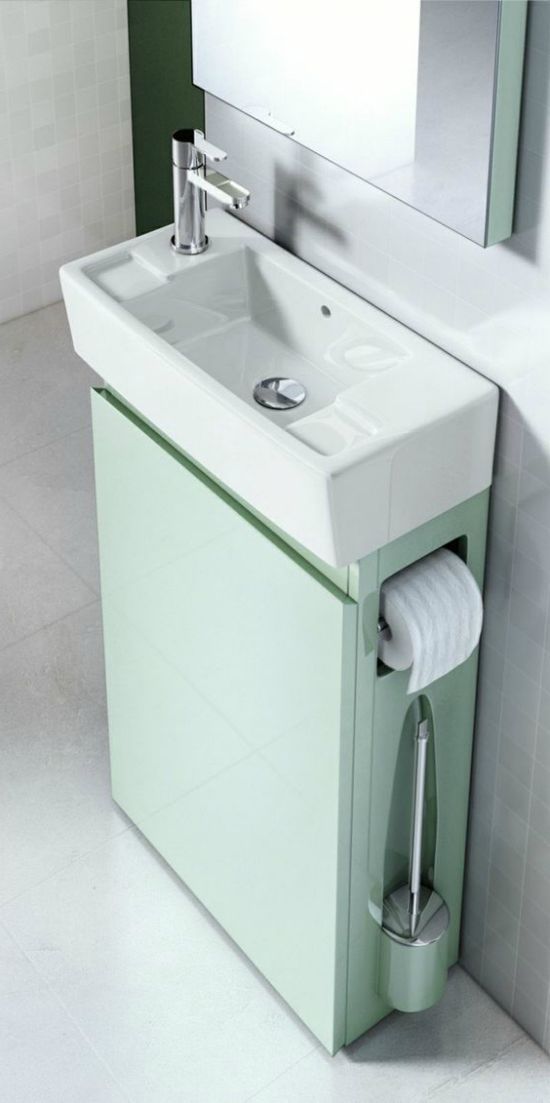 Corner shower
Corner shower - a saving solution for small bathrooms. It can help you save a lot of space.
Well, if the doors are made of glass, and the rear wall will be the wall of a bathroom - so a shower will be part of the interior and will not visually make it closer.
Nishi instead of shelves
If shelves and cabinets for storage jars andbottles of shampoos, balms and other means of body care is simply nowhere to hang or they will interfere, it may be a good alternative would be small niches in the walls.
Use the door
On the surface of the door, as you can see, we can accommodate a few towel. It looks neat, and in practice is very convenient.
Engage all levels
The owners of small bathrooms must learnto think more broadly and to be able to use literally every centimeter of available space wisely. For example, not many smart enough to make a shelf near the ceiling, and in fact the idea is good! especially if it objects to be stored in boxes or wicker boxes - comfortable and beautiful.
Even the washing machine, which would seem to take up much space, you can "squeeze" in the space of a small bathroom, placed under or above the cabinet.