Scandinavian style in a bathroom - verywinning option. Its features allow even small spaces to make visually spacious, bright, airy. That is why this style is very popular with the design of small apartments and rooms.
The main features of the bathroom Scandinavianstyle - the use of natural materials, the predominance of white, simple geometric forms. In general, this trend in design is characterized by maximum functionality, which is especially important for compact spaces, and in the first place - the bathrooms.
In Scandinavian bathroom nothingexcess, each fitment is used to the maximum, and is designed so as to occupy less space as possible, while still usually combines several functions.
Another feature of style - its simplicity. It is only necessary to observe the basic principles of interior construction.
Colors. Scandinavian style in a bathroom dictates the choice of natural colors, it is especially important for large surfaces - walls, floor, ceiling. The palette of white, beige, sand, blue, blue-gray, light brown. Light colors, especially white, will help to make the room visually larger. Darker shades can be used as an accent.
Furniture. Bathroom in Scandinavian design does not like frills. It can not make furniture. Only the necessary minimum - but the furniture should be of real wood, the best - unpainted. There are some elements of glass or chrome-plated metal. In that case not be able to avoid painting, furniture should choose white.
Shine. Scandinavian bathroom can not be covered only built-in ceiling spotlights. It is necessary to use several different lighting schemes: central lighting, spot lighting directed spots, floor lamps or sconces. In this case, you can be sure that the room is equally convenient to both carry out hygienic procedures, and relax after a hard day.
Flooring. As part of the Scandinavian style in the bathroom, there are three main types of floor finishes: natural wood, an imitation or self-leveling floors. With the tree need to be especially careful: the number of species that are resistant to water, is limited to the same should take care not to "wet" the neighbors from below ceiling.
Therefore, if you can not get a real teak deck, better to stay on the tile flooring that mimics wood, it is also possible to use a white or black tiles.
If you are staying on the liquid floors, theywill look better in white or dark-brown or gray, almost black - such a contrast option will make the bathroom Scandinavian design more vivid and expressive. But in this case will have a more careful approach to the choice of accessories, making sure that they are not only combined with each other, but also organically poured in a game of contrasts.
Mats in a bathroom should not occupy the entire surface. They may be small in size, in the chosen gender tone or contrast.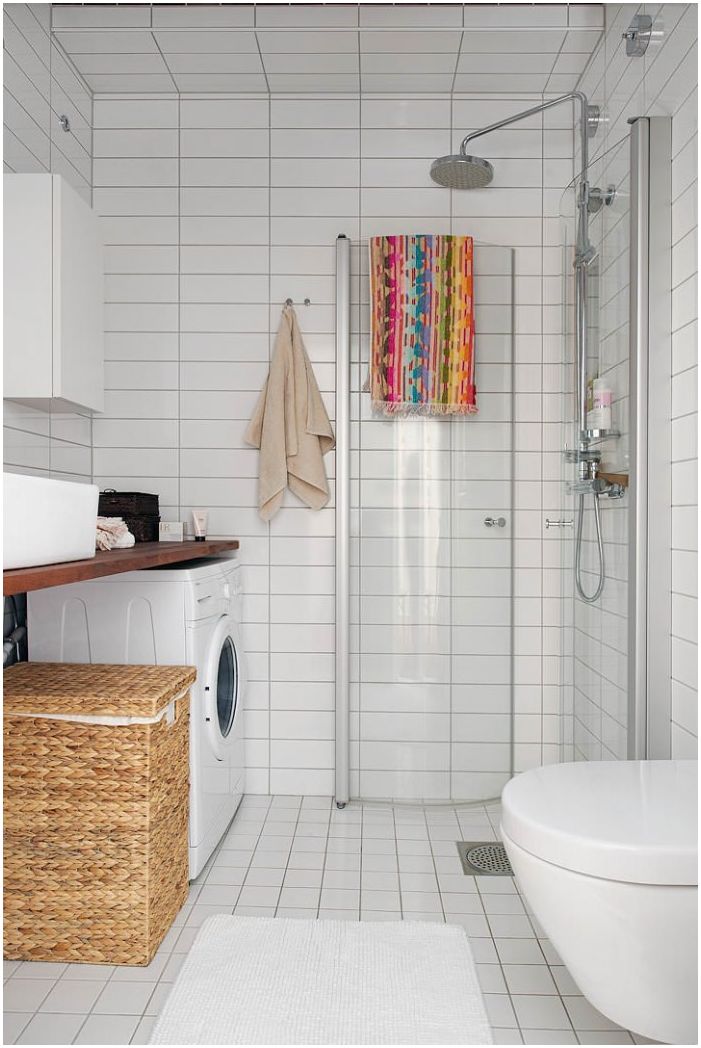 Decor. Textiles - the main decoration of the Scandinavian bath. This style love natural materials, pleasant texture - linen, cotton, satin. Curtains and towels, napkins and curtains covering the open shelves - all of these tissue elements should be designed in the style typical of the colors and have the appropriate patterns: stripes, "knitted" snowflakes and other typical Scandinavian patterns.