25 things from old forks and spoons.
It's amazing how many interesting things you cancreate from old spoons and forks. Do not rush to throw boring cutlery. They can easily turn into decorations, useful household items and fashion accessories that make the interior more interesting.
Stand for photos
An unusual stand for a photo.
The original photos will stand out fork with curved teeth. The only tool that would require - pliers.
Handles for cabinets
Handles for cabinets.
Unusual accessories - a guarantee that the furnitureIt will look original. For the kitchen cabinets are ideal knobs made of teaspoons. If desired, they can be engraved with a clue what is hidden behind each door.
Devices for buffet
Plugs for buffet.
Excellent tools for the buffet table are obtained from the forks to cut cuttings.
Bright accents for the kitchen
Bright accents for the kitchen.
To revive the old cutlery set, you can use non-toxic paint, suitable for use with cooking utensils. Multi-colored pens transform devices and hide scuffs and scratches.
Tablets in flower pots
Tablets for flower pots.
From old spoons and forks are obtained unusual signs for seedlings.
Plates for eggs
Stand for eggs from a bent fork.
An impressive stand for easy to produce eggs of ordinary plugs. To do this you need pliers and a little time to create a stable object.
Pendants and charms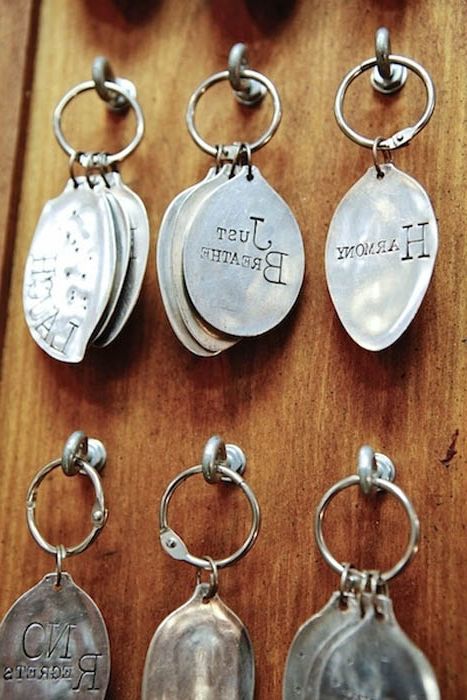 Pendants from spoons.
With the help of a hammer to make it easy to cut flat spoon. And it is - ready framework for the key fob or pendant.
Decoration for walls
Spoons in an elegant frame.
It's amazing how elegant can look spoon attached to the canvas and enclosed in a frame. Before these devices should be covered matt paint, in the same tone framing.
Panels with your own hands
Bright spoons to decorate the walls.
The modern interior fit more provocative version - appliances, painted in bright colors and placed on a colorful cloth background.
The original chandelier
Chandelier made of spoons.
A truly grand accessory - tiered chandelier, made from a variety of cutlery. Another similar embodiment of this idea can be found in our review.
Ringing suspension
Suspension for the interior with their own hands.
More than a miniature version for small spaces - suspension, consisting of two series of threads with forks and spoons. In the wind, it will emit a nice carillon.
Spectacular pendants
Pendants from old forks.
Lovers of unusual jewelery can experiment with pliers and teeth fork - so you can create a lot of funny pendants.
Elegant fork
Fork in the Baroque style.
Creating such a beautiful cocktail party plugs require considerable skill. But if we can tighten the side teeth so gracefully - the admiration of the guests is guaranteed.
Stand for tablets
Holder for tablets with the names of guests.
A plaque with the names of the guests is convenient to fix directly in the teeth of a fork.
Mounts notes
Plugs, playing the role of hooks.
Plugs can play the role of holders of notes, instead of annoying buttons.
Tiebacks
The original tiebacks.
Usual bent fork will be an original pickup for curtains. The main thing - a good blunt teeth to avoid injury.
Shade
Unusual shade of cutlery.
Stylish lampshade turn of the dessert knives, spoons and forks. To do this, release the old lampshade from the tissue and suspend devices on a thin chain.
Baskets for small items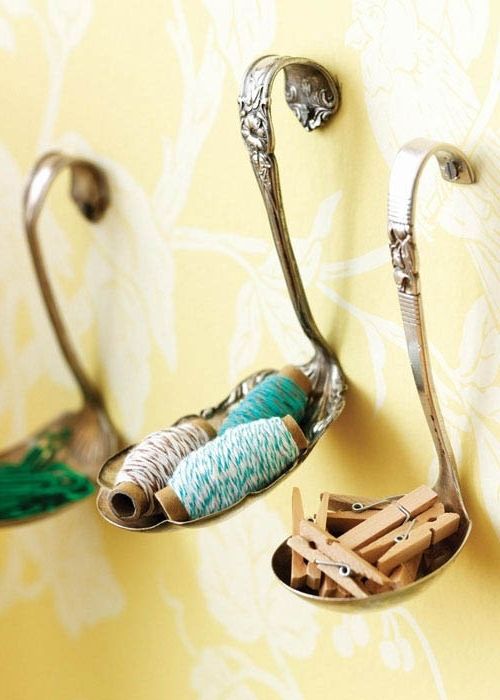 Baskets for details.
Very original baskets for small items are obtained from spoons with curved cuttings, nailed to the wall.
Clip for napkins
Clips for napkins.
If you wrap the stem loop spoon - get a great holder for tissue napkins.
Hooks for keys
Barbed hooks from cuttings spoons.
Devices nailed to wooden blocks, serve Klyuchko for each family member keys.
Stylish ring
Ring fork.
If you devote a couple of hours of careful work with cropped fork - get an unusual ring.
Bracelets in ethnic style
Funny bracelet fork.
And in a couple of his approach the original bracelet.
Brutal Men's Bracelet
Male ornate bracelet.
Even more complex decoration, suitable for men, obtained from two interlinked forks, with ingeniously wrapped teeth.
Fruit bowl
Fruit vase.
Brazed together spoons and forks will create a great bowl of fruit, which will be the main focus of the kitchen interior.
Bright interior spoon
Spoons for interior decoration.
Bright spoons, posted on the wall in several rows, to help repopulate the kitchen with new colors. All you need to do - to dip tools in a jar with acrylic and wait until they are dry.