Entrance hall - it is always a zone with the highest loadon-road, in any home, regardless of its area. And because every single decoration materials should be practical, reliable and easy to repair if necessary. This is especially important in homes where children live (wall art lovers) and cats seeking to sharpen claws about everything.
Content
We use different types of wallpaper
Decorative plaster
Wall panels
Choose artificial stone
Ceramic tiles in the design of the hall
stained walls
Wall coverings in the hallway should be lightcare, not Mark, the relevant general housing design concept. They just have to persevere "tolerate" wash after regular dirt, moisture and mechanical stress. And because the materials that require delicate handling, are irrelevant.
We use different types of wallpaper
The only wallpaper, which are not suitable forhallway - paper. Their wear resistance is insufficient for this room. But there are several options for coatings, perfectly meet the requirements of durability and aesthetics:
Vinyl wallpapers. They are relatively inexpensive and are highly diverse in terms of drawings. The texture of these coatings thick enough to allow the base to hide imperfections. Among the advantages - attractive appearance, the ability to wash and wear.
Wallpaper in a large horizontal stripes in the hallway
Cork - on a paper basis. They are hypoallergenic, ideal for the decoration of the hall in eco-style. They can be washed. And the cork - it's completely safe natural material, very pleasant to the touch and antistatic properties (that is, the walls will not collect dust).
Wallpapers with contrasting pattern
Liquid wallpaper - easy to apply and formattractive maintainable surface by a part of textile fibers. This type of coverage is best in the event that an entrance is made with complex contours of the walls - projections, arches, niches, because the seams elastic material does not form.

Liquid wallpaper look like decorative plaster

Liquid wallpaper - is a dry mixture thatindependently diluted with water, or is already fully ready to paste composition, which is applied by spraying a wall or knurled. When applying, you can change the thickness, which will be used instead of the traditional Floor screed. Among the advantages of liquid wallpaper - antistatic, possibility of local repair and painting. It is believed that this material is not waterproof, but this deficiency can be corrected by covering the surface with varnish.
Accent walls are covered with wallpaper with a pattern
Glass fiber. It is a material with an expressive texture, intended for coloring - very strong and durable, able to resist even against the cat's claws. They are very easy to paint - like vsploshnuyu and using a stencil.
Non-woven wallpaper - this is another kind of wallpaper underpainting. They are not as durable as compared to fibers made of glass, but also quite practical and attractive. You can choose the snow-white textured canvas and paint it up to 10 times, each time changing the color dramatically, and may prefer paintings with a pattern - it all depends on what kind of design is planned.
Decorative plaster
Decorative plaster - it's one of the mostinteresting covers in the hallway. Thanks to it you can create any kind of incredible styling, preferring imitations texture of natural stone, wood, bark beetle damaged walls, bright smooth marble and so on.
Decorating the walls with plaster in light tone furniture
There are several standard patterns that are popular in the decoration of vestibules:
Venetian plaster, imitating the noble marble;
embossed and textured to create volume surfaces;
fantasy flock;
velours;
wet silk;
sandstone.
Light plaster blends well with the dark elements: furniture, tiles, skirting and door
Differ surface not only on the grounds, butand by type of structure - isolated bark beetle, lamb coat (sprayed) and staining. You may vary the severity of the pattern - depending on which plaster grain size selected.
Applications of colored plaster in the hallway
Important. Among the main advantages of decorative plaster - the variability of designs, the ability of the coating to "breathe", the complete absence of odor during application and also increased rates of resistance. And with this material, you can create highly artistic paintings - such panels will transform any corridor.
Wall panels
Wall panels are considered to be practical anddurable finishes. They are easy to install and do not require specific care - will be enough to clean with a damp sponge in the soapy water. There are several types of wall panels, suitable for mounting in a hallway, and some of them are manufacturers provide a 15 year warranty.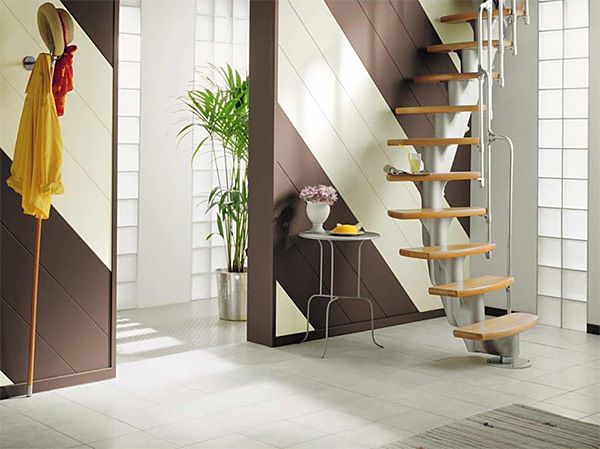 Panels made of natural wood
However, one can say that the design of thematerial varied. The most common colorings are considered imitation of wood and marble. These solutions often opt for minimalist interiors, where it is important that the wall did not attract attention.
The panels made of artificial materials
There are two popular types of wall panels:
Plastic. Easy, practical and durable. Its collections can be found plain smooth surface and interesting colors like small flowers of Provence, or high-precision imitation masonry. Such surfaces are mounted very quickly, because it does not require careful preparation of the base. There is another point - on their own plastic panels are cheap, but their installation will also have to buy special items and frame rails.
Bright plastic panels with a pattern
MDF. Mounted on the same principle as the plastic, but looks much more respectable and stylish. But this impressive refinement affects the cost - MDF expensive than plastic. This material is somewhat more susceptible to moisture, characterized by a smaller number of colors, but they are environmentally friendly.
MDF panels Finish bottom of the wall
Choose artificial stone
Artificial stone is called a modern composite material based. Its surface is perfectly imitates natural materials, including:
granite;
onyx;
marble;
sandstone;
wild raw stone;
turquoise;
malachite.
Grey decorative stone on the wall in the hallway
Sometimes imitation is made so precisely that distinguish the product can only be by weight. In this artificial stone easier, which is an advantage in the decoration of residential spaces.
The material is characterized by not only easy, butand strength, as well as environmentally friendly, because its main component is considered to be cast. But the artificial stone is not cheap, besides, its texture "eats" space, but because it is rarely used for decoration "vsploshnuyu", preferring thus to place the emphasis point. This can be either only the lower part of the wall most prone to wear and tear, or areas near doorways, arches and niches, corners or projections.
Decorative stone looks wonderful
Among the main advantages of decorative stone:
Increased moisture resistance. It provides special top protective layer, which does not allow moisture to penetrate into the plaster structure.
Practical, easy care. For surface cleaning will be enough use a damp or dry cloth.
The high degree of resistance to wear - a protective layer protects the product texture from damage, so that even after cleaning it will not lose its decorative properties.
Long operational period - if you can provide proper care coverage, it will serve you for 10 years at least.
Easy installation.
geometry stability during sudden temperature drops.
Fire resistance even when exposed to direct flame.
Ceramic tiles in the design of the hall
Tile is a traditional material fordesign of kitchens and bathrooms. But among the highly modern collections will not be difficult to pick up materials with impressive textures, ideal for the decoration of the hall. This simulation can be silk, wood, metal or fabric silver, gold, and skin.
Ceramic tiles on the walls of the hallway - why not
Important. For the hallway, you can choose a ceramic tile single or double firing. Each of these materials high strength, but he had been subjected to double-fired, characterized by high performance.
Decorating the walls of the hallway glossy tiles
In the hallway tiles can be usedeverywhere - not only for the decoration of the walls, but also for the flooring. This material is considered environmentally friendly because the main raw material for its production - clay. Among the advantages are also:
design variability;
practicality;
resistance to wear - patterns and designs retain their original splendor for a long time;
strength;
durability - can be operated for 20 years or more;
resistance to temperature changes;
humidity;
easy care - the surface does not absorb dirt and easy to clean.
stained walls
The paint can be used for decorationplastered hallway - and in the case where the wall just leveled plaster solution, and when they are sheathed gypsum boards. Are stained wallpaper and decorative plaster. The created coating thus is hardly luxurious and elegant, but it is practical, easy to update, and helps you create high-quality and easy to care background.
The white color of the walls to the hallway
However, only the paint is suitable for the hall, which creates a clean surface:
latex;
latex;
silicate;
silicone;
acrylic.
Each of these materials can only be applied on a perfectly flat surface, or "tread" is every reason defects.
Choose the material for the walls in the hallway are notdifficult, if one is to focus on the desired style, and the available budget. Among the materials will not be difficult to pick an appropriate finish.