In a world dominated by chandeliers, hanging andbuilt-in lamps, a good table lamp will always find its place. If you make the right choice, you can achieve the necessary symmetry, contrast and decorate any room.
Designer Tips: How to choose the right table lamp
Interior room from ullivan + Associates Architects
Making decor in the house, it becomes obvious thateven the smallest details play an important role. Style, theme and color scale of the room largely depend on the correctly chosen lighting scheme, which creates the right atmosphere. You can not change the situation in the room, but simply change the lighting, and achieve incredible changes in the mood of the room. Correct lighting gives charm, a modern look and, in addition, provides multifunctionality.
Choose the right place
The kitchen in the industrial style of Jarrett Design
Interior living room by Malcolm Duffin Interior Design
First, you must determine what you need. You should start with the choice of place, where there will be a table lamp, determine the height at which it will be, at some distance from the bed, sofa, chair or wall. For starters, you can buy a lamp and try to install it in different parts of the room. If you liked the transformation, it remains to draw a conclusion about the type and quantity of table lamps, which are worth to purchase. Perhaps bedroom you do not have such a bright lamp to buy, for the living room!
Determine with the size
Bedroom interior by Laura Martin Bovard
Table lamps with a neutral shade of Accouter Group
It is difficult to determine the height of a table lamp withso whether it will suit the style and decor of the room. If the bedside table is high, then it is better to choose a table lamp low, and if a low table, on the contrary. Lampshade lamp should be at eye level, so that the lamp light does not dazzle.
Playing with styles
Interior living room by Jessica McKay
Various table lamps in the bedroom
The most common style of table lamp respondslampshade, but it happens that the body too. World table lamps is very diverse, and there is always the opportunity to choose a model in the style of Art Nouveau or classic Hollywood luxury lamp in the style of the bourgeoisie. Variety says that you can find the right lamp to suit individual requirements. There is an option to use a table lamp decor in a very different style than the room, so it will be a highlight of the interior.
World of color
Bedroom interior by Rachel Reider Interiors
Bright colors desk lamps in interior
Neutral-colored walls without striking elements -a great background for any contemporary decor. Table lamp in this case will give the possibility to play not only light, but also the color. Multi-colored lamps can add to the decor absolutely any shade, and copper or gold-plated model in an industrial style will add charm and add texture.
Lampshades
Bedroom interior by Sacha Jacq Interiors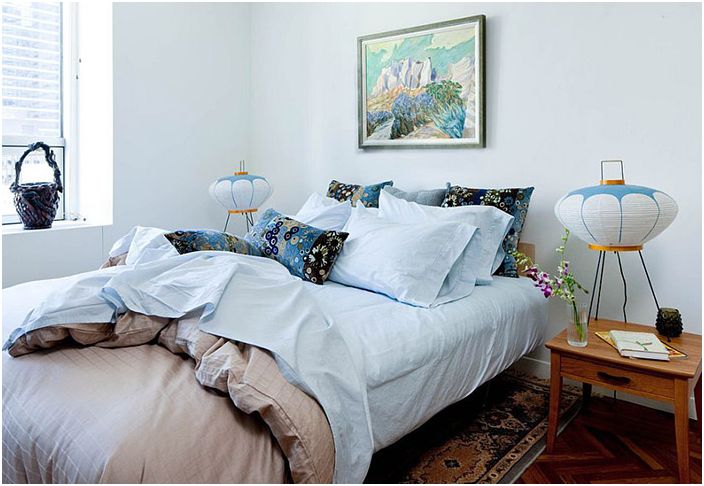 Bedroom interior by Kristen Rivoli Interior Design
The right to be in the selection table lamppay attention to the shade and size. Do not be limited to a choice of a table lamp style or pattern on the lampshade, certainly we need to pay attention to ergonomics and proportions. Shade diameter should be at least 5 cm less than its height. The narrower the shade, the less then the area which it covers, it is also necessary to bear in mind when buying.
Attention to detail
Interior of modern bedroom by Geremia Design
The lamps are different ...
Most desk lamps arranged so thatShade can be changed at will. We have to check this possibility even in a store. In many table lamps are used old-style light bulbs. It is better to replace them with LED besides aesthetic pleasure, will save on electricity bills. But not all models can change a light bulb, so it is necessary to examine all the details before buying.
Combinations and combinations
dining room Interior of Alison Damonte Design
Interior room from Garrison Hullinger Interiors
Desk lamp should not only be suitable forstyle, but should be complementary decor, help provide coverage on multiple levels. It can be embedded lights that create the overall mood lighting accents that illuminate architectural features of the room, or art, or functional lighting. For better and the original image should be combined, for example, two absolutely different in style table lamps, suitable for color or geometric shape to give a clear symmetry of a certain quirkiness of the room.
But for those who like to read in bed,table lamps may not be the best assistants. For them, there are very different, special and very original models of lamps, which need to be looked at.