10 common mistakes when you make a courtyard and methods of their correction

courtyard landscape planning - not an easy task, so the misses, unfortunately, can not be avoided. We offer 10 of the most common errors and their correction methods.
Densely planted flowerbeds


Spring flower bed may even be bald
It must be remembered that the plants are growing, and witheventually take up much more space on a bed, than when landing. Therefore, be sure to provide for such a situation and leave the flowers they need space. It's okay if a flower bed in spring will look a bit bald.
Seasonality


It is necessary to take into account the seasonality when placing the yard
The yard should look attractive to thethroughout the year. It's a shame if it boasts bright colors in the spring or fall. It is best to plant plants that bloom in different seasons, from early spring to late autumn.
External appeal


Pay attention to all the elements necessary to
If the yard is not visible from the street, it does notan excuse to ignore his appeal. We can not ignore this aspect. Therefore it is necessary to draw everything from beginning to end - and the flower beds and paths, and recreational areas - as if the whole world can look over the fence.
The interior - exterior


Contact the interior and exterior
Many people forget about the interior and exterior communication. It is essential that they blend together to create a pleasant transition from one space to another. In this case, even when you're at home, you can easily enjoy the beauty of the landscape outside the window.
Excessive decor


Excessive decor
Too much of all kinds of decorIt distracts from the beauty of nature. It is able to reverse the colors and freshness of the garden. Therefore, it is not necessary to expose all that is at hand, even if everything is madly in love.
Wrong colors


It is necessary to choose the right colors
The color palette is very important when planningsection. Not all colors look well, if you mix them together. Yes, and rich colors, too, can not be considered a good solution. The colors may be too bright and even irritating. It is best to opt for two or three colors and only use them. But the tone of the selected colors can be used in all their diversity.
complex care


less time, the easier care must be
If the courtyard looks amazing firstSeveral days after planting and decorations, then slowly begins to lose its appeal, it means that you do not have the time to maintain its status. This factor also needs to be taken into account at the planning stage.
Unsuitable tools


Tools does not happen much
A well-chosen tools can bothto simplify and complicate the care of the courtyard. If you consider a list of all necessary tools, work in the yard it will be easier and more efficient.
Lighting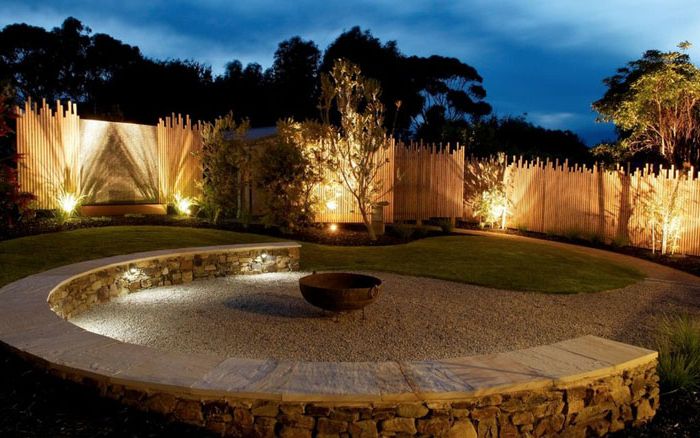 Proper lighting
Usually landscape planning takes into account its viewsonly during the day, during daylight hours. But what it looks perfect day. It may look very unattractive evening. Therefore, be sure to consider the lighting circuit court. Correctly emphasis will help transform the courtyard at night into a wonderful place for recreation.
uncomfortable furniture


Furniture should be comfortable
The courtyard is designed to rest in the openair, admiring the bright colors and the beauty of nature, so it is important to choose comfortable furniture. Armchairs are best taken with wide seats, armrests and upholstered headboard. Do not interfere with even a few extra podushek.Odnim the best one would be beautiful wrought-iron furniture. It is durable, able to withstand heavy rains, scorching sun and sudden temperature fluctuations.