The sliding wall as a way to expand the space in a small apartment

After studying the problem mikrozhilya and all necessaryit design elements, architectural studio MKCA has started decorating a small apartment in New York. The result was unexpected and incredibly interesting.


Sliding wall moves from one end of the room to another




The apartment is ready for bed
The area of ​​apartments in New York on 36 squaremeters, however it has everything you need for a comfortable stay. And it provides a living room and dining room, and a bedroom and bath. And then there is a seating area and a dressing room. The main attraction of the apartment can be considered a motorized sliding wall that m ozhzhet move from one end of the room to the other. This element helped to divide the day and night zone and opens the dressing room with built-in drawers and cupboards.


At full opening occurs bedroom area
At full opening there a place for a hugesofa beds, which are very popular in small apartments. There is also equipped with a work space and a small library, and additional shelves. The computer and the rest of the equipment hidden in the room, and still performs the role of the bar.


TV can be viewed from different zones




Home Office Zone
In addition, the sliding wall hides moresome interesting details, such as a rotating TV stand, storage for all audio and vidio equipment. TV can be rotated 180 degrees, and it can be regarded as a living room and a bedroom. In the area in front of the sliding panel is a sofa decorated with colorful pillows and a small round table.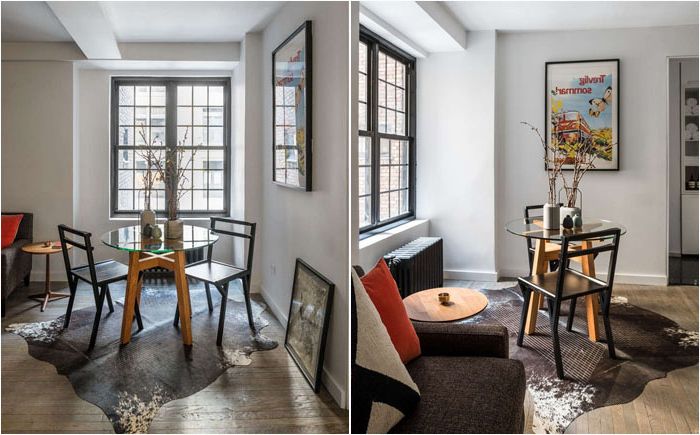 dining area
In the dining area by the window is a dining table that seats four. The glass surface helps to maintain a sense of space.


Kitchen




There was a place for ponotsennoy bathroom, and dressing room
The kitchen provides a large work area, a lot of space to store all sorts of household details.
In the bathroom, installed a sliding door and laundry basket. A few open shelves allow you to store towels and other bath accessories.
Even more ingenious solution using several sliding panels offered Spanish designers of the company PKMN Architectures.