bachelor apartment

The small apartment is often a presentheadache for its owners, and for designers - a field for experimentation. This accommodation always requires a certain approach to interior design. The task is complicated, if the size of the apartment less than 20 square meters.


The apartment with a male character


Malogabaritki 17 square meters

This apartment of 17 squares of living younga person who is passionate about literature and the family does not plan to create. This factor was one of the key when creating an interior. Its made as simple and minimalist - clean lines, simple shapes, simple decor (Motivational posters instead of elaborate decorations, which are out of place in small dwellings).

White-White


White was diluted with black, red and yellow

Considering men's interiors, we are used tothe fact that they are made in the dark shades, with a predominance of brown, red or blue. This bachelor abode as a favorite white is selected. He ennobles small room, visually playing with its real dimensions. But to be in the white interior can not everyone. In order to remove the psychological tension, designers woven into space black, red and yellow elements.


Small hall




In the hallway there is nothing superfluous




The decor is simple and stylish apartment


Windows that do not exist
Often, small spaces do not sufferonly the size, but also from other disadvantages, for example, from a small number of windows. This one is one, and then narrow. To balance the interior, one of the walls are decorated with photo wallpapers with the image of a tree. This technique deceives the eye, and it seems that in malogabaritki at least two windows.
Another visual trick, which also operates on the filling of the interior additional light - high mirror installed in front of this window.


The window in the apartment one




Photo Wall Mural act as false window




The mirror also creates the illusion of an additional window


On high
Some believe high ceilings flaw, but inThis one they saved the entire interior. The second level is decided to be used rationally and placed the bed here. It is isolated by means of curtains and well-lit wall lights. The bed-loft is ideal for malogabaritok with high ceilings.


Bed-loft great saves space




High ceilings advantage of this steel malogabaritki


Out of sight!
In a small odnushke there was a place for a home library. Books arranged on open shelves. They have allocated a special place here, while all other things hidden out of sight:
• in shallow boxes along one wall;
• in the shop, which serves as a couch;
• In the kitchen area, even a small corner pencil box, which housed all sorts of small utensils.


Storage under the bench




The kitchen area has an elongated angled pencil case




Small kitchen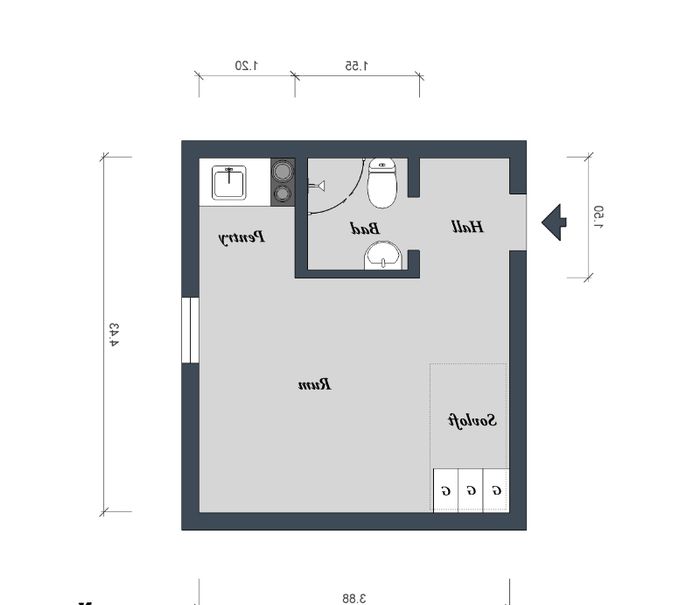 Apartment layout

For example, this malogabaritki we discussed howYou can arrange a berth only 17 square meters. Not so long ago we wrote about the small apartment in which everything is properly organized, and the bed is hiding in the closet. It is also possible to find a lot of techniques for small spaces that are applicable to the usual Khrushchev.