Ideas design of modern kitchens.
Kitchens are different - very young, wherejust enough space for the hostess, who cooks, or obscenely large, which can fit a large company. Kitchens can be anadromous, have an irregular shape, located in the attic or near the bathroom in the house of a typical layout. But whatever the kitchen, special attention should be paid to its interior to make it really comfortable and efficient space in the house.
1. Dark interior - stylish classic
Black and chrome are always in trend.
2. Glossy Kitchen
The kitchen in bright colors with a glossy shine.
3. minimalist designs in kitchen interior
Kitchen in pastel colors.
4. Classic cuisine option with wooden facades
Practical simplicity is always in fashion.
5. Empire in the interior
Empire to the modern kitchen is quite appropriate.
6. Minimalism in the kitchen interior
Everything is at hand and nothing more.
7. Green-blue kitchen
Interesting color scheme for a small square dishes.
8. A timeless classic
Classic interior light a large kitchen.
9. First class cuisine in the Baroque style
Kitchen Baroque - feel like a king!
10. The kitchen in ultramarine
Simple, stylish, modern
11. Cozy kitchen with black furniture
At the intersection of classic and hi-tech.
12. The original plan kitchen
The kitchen in the studio apartment
13. Purple kitchen with light
Bright facades, soft light and efficient space.
14. The kitchen in warm tones
Color apron on the wall looks favorably on the background of the dark kitchen fronts.
15. Solar kitchen
In the kitchen, in orange tones, dark and boring does not happen.
16. Kitchen for large families
The original kitchen with a working solution to the surface in the center.
17. Kitchen for connoisseurs of comfort
Bright facades and walls with expressive patterns are added warmth and comfort.
18. kitchen with breakfast bar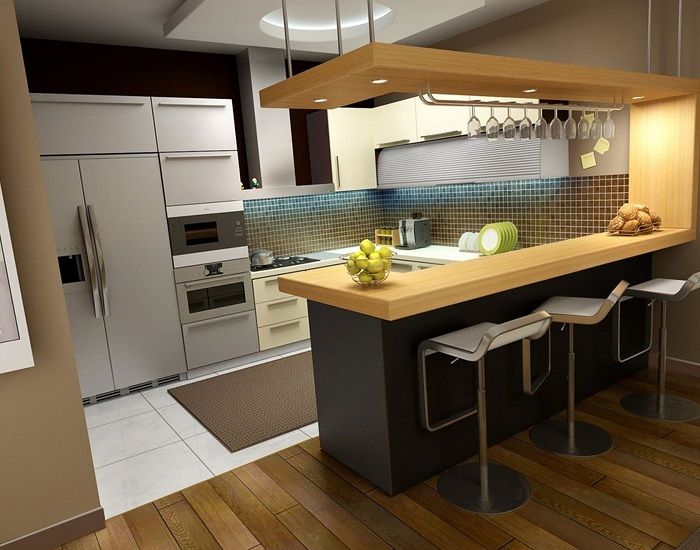 The bar counter in the kitchen - the perfect solution for partygoers
19. Built-in furniture in a kitchen interior
Interenye solutions that save space.
20. Black and white kitchen
White facades + black = wall stylish interior.
21. Eternal Summer
Bright flowers on bright kitchen apron always appropriate.
22. Stylish classics
kitchen in the chateau style.
23. Large kitchen in classical style
Classic is always in fashion.
24. The kitchen in high-tech style
Yellow chairs - bright interior in the bright kitchen.
25. The white kitchen with a LED-backlit
On the white kitchen must be bright spots.
26. Nothing in excess
Only black-black panel on the white-white kitchen.
27. Wooden delights
In this kitchen is always warm and cozy
I'm sure our readers would like to learn how you can still arrange the kitchen. Continuing the theme of your attention yet 28 gorgeous modern kitchen with home entertainmentThat will be the perfect solution for those who like stylish things, and for all those who love to take guests in her home.