All tips and tricks for a small clearancekitchen reduced to the fact that it is necessary to use only light colors, achromatic colors and minimal decor. So, as a result can get boring and featureless interior. We, in turn, offer you some interesting ideas that will make the design even the tiniest kitchen truly original.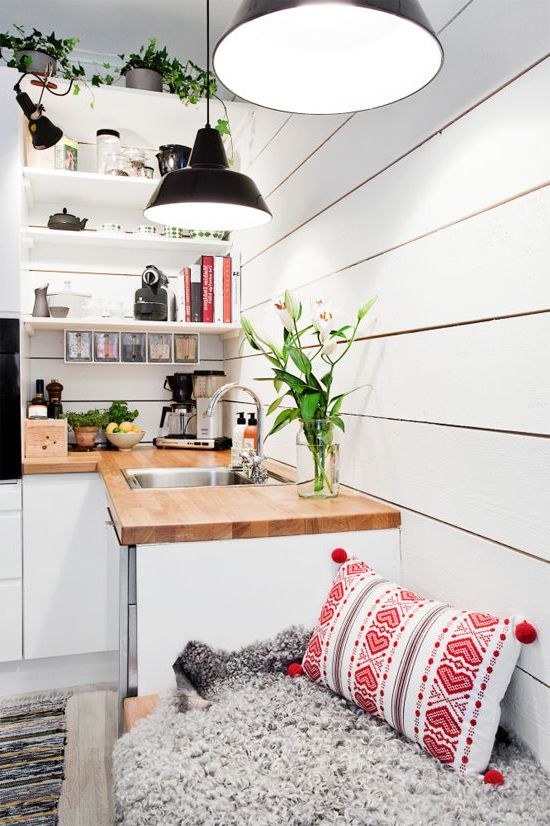 Kitchen cabinets: bright inside
Usually, buying kitchen furniture, we attach littlevalues ​​what color internal filling cabinets and lockers. This is a blunder, because, at least, the color should match the shade facades. But even better, if it will be bright and unusual - this will give the kitchen design some "flavor", especially when it comes to open modules or cabinets with windows.
Unusual kitchen apron
We already wrote about what materials can beto make an original, author's apron for the kitchen. If the idea of ​​an apron of wine corks or chopped CD seems too extravagant, you can just use a bright ceramic tiles or mosaics. Provided neutral design the kitchen as a whole, such a solution would be very effective.
Beautiful sink
Even the small-sized kitchen can not dowithout washing. And if the "roam" in interior design is impossible since a modest area, the emphasis may be placed on the most necessary items. Yes, designer sink - fun is not cheap, but it is not just a container for washing vegetables and dishes. and adorn your kitchen. Well, then: we do not buy washing for one year - so that the purchase is worth the money.
The emphasis on the fridge
We are so accustomed to the fact that the refrigeratormust be white, even black model still cause us some surprise. What then to speak about the kitchen, where there is a red, green, or, say, a blue fridge? By the way, change it just for the sake of interior design is not worth it - because you can paint your own! If the interior of the kitchen is decorated in a contemporary style, then this method will be relevant.
Do not be afraid to use dark shades
Despite all the urgent advice ofusing a palette of light in the design of small kitchens, we want to give you an example of a black interior. Boldly, stylish and beautiful! Of course, to take such a risky step, you should be confident in their design abilities, or enlist the support of a professional.
Décor be!
And another tip defiance of stereotypes: Use kitchen decor despite the size! Of course, in moderation and with taste. Below is an example of how this advice is effective. This kitchen is so tiny that if it is not a picture on the wall and carpet on the floor, it could and did take over the pantry!