The kitchen is the place where the hostess spendsQuite a lot of time, so the choice of ceramic tiles for it must be treated with all seriousness and responsibility. First of all, the material must be very strong and resistant to shocks. Ceramic tiles are made of sand and clay. To do this, the sand-clay mass is poured into special molds and placed in an oven. The finished product is a square or rectangular plate of various sizes - from very small, the size of a palm, to large meter varieties.
Tile or porcelain tiles?
If we talk about the kitchen tile on the floor, thenHere it is better to give preference to porcelain stoneware - a strong floor tile. It is resistant to shock, high loads, abrasive substances, scratches. On the porcelain tiles, you can walk on your heels and even jump on them. For the office you will need a very strong porcelain stoneware, for the house you can buy a tile of not such a high class of strength. The floor tile is able to withstand hot fat, vinegar, falling pan, rearrangement of the kitchen set.
If you do not like granite, then getDecorative ceramic tiles. This material is durable, attractive, with a varied texture. But still for the kitchen is better to choose a smooth tile tile, so it was easier to care for her. The more any depressions, dimples and carved details, the harder it is to wash the tile after cooking.
Decorative design
Ceramics for the kitchen can be made with a pattern imitating a tree, a brick wall and a stone. The variety of sizes, colors will allow any interior to make refined and attractive.
Very elegant looks a noble pastel of brick imitation on the walls and furniture. Against the background of a neutral color scheme, painting in a ceramic frame will become a bright touch.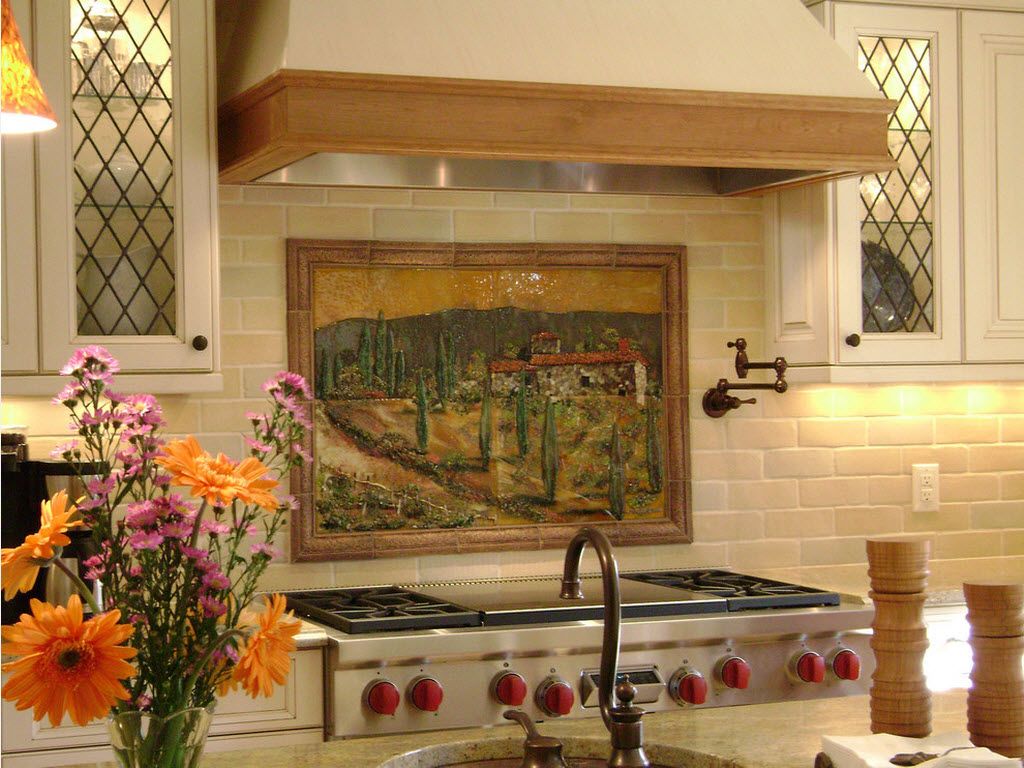 Ceramics with the imitation of bricks are quite versatile in the decorative design of the kitchen interior. It looks great in combination with wood, steel and other types of surfaces.
The kitchen apron can be made in Italian style. Background design «for a brick» will be harmoniously combined with a decorative mosaic.
Picturesque mosaic drawings and ornaments will become the main decoration and even the author's decor of the kitchen interior.
Ceramic tiles "under the stone" look no less impressive.
Of course, you can lay out the kitchen with a real stone. Such an interior looks chic, but also is much more expensive than with a tile that imitates a stone.
Stone or its imitation is appropriate to use in country style. For example, put in the kitchen rough wooden furniture, decorated with forged accessories.
Ceramic decorative tile "under a tree"Will be an ideal design of the floor and walls. Such material will replace the parquet or linoleum. If you use a tile with a pattern that imitates a tree, then the interior items - a kitchen set, a table, chairs should be made of natural wood, and outwardly look rather imposingly.
To maximize the life of the kitchen tile, it is very important to get acquainted with its characteristics and properties. So, you can choose the best care products.
Never use scouring powders and liquids not designed for tiles.
You may also like our article: Beautiful floor tiles in the kitchen: 30 ideas on the photo