Almost every home has, or will soon beWasher. The thing needed in the economy and an indispensable tool. Dimensions of the unit - this is probably what accounts for the measure and especially to pick a place for a washing machine.
Standard apartments do not are spacious and inbuildings of the last century, did not allow for the presence of such equipment at home, so the question of where to place the washing machine is not always easy to resolve. The problem of placing everyone decides on his own, but there are common solutions that may be suitable for many apartments.
Bathroom
Allocate a separate room for the washing machineand label it as a home laundry - a bold option, but the reality is that this room can only be a bath, and even then, if the meters allow.
The large bathroom is optimally positionedwashing machine in a separate cabinet with doors, blinds. It will be located below the machine itself, and the top shelf in the desired sector. Bath also convenient because they do not have to extend communications system for water supply, drainage and wiring, through long distances, it will be directly connected directly to the room.
There are small-sized cars, and you can install them under the sink, this option is perfect for stag studio apartments.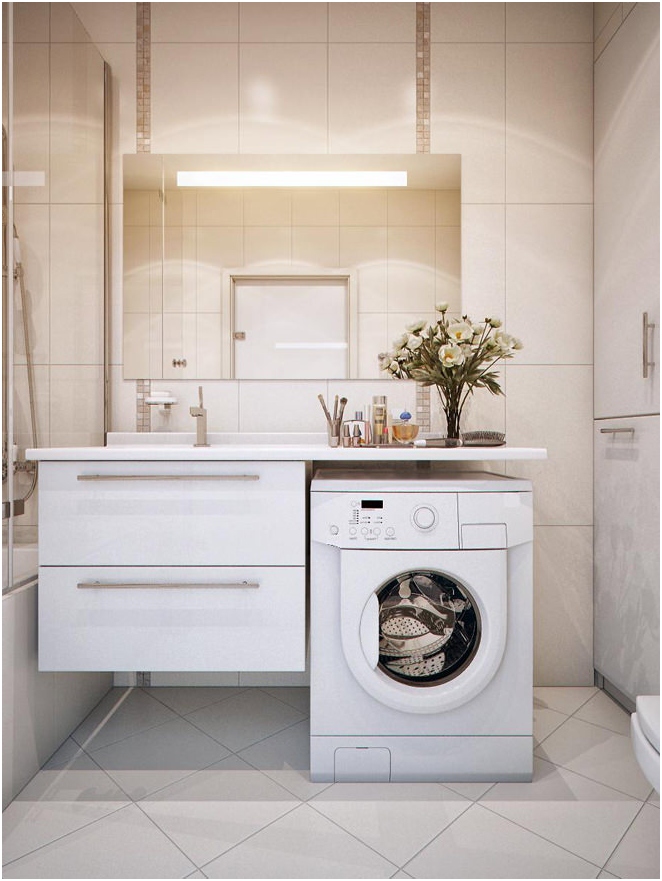 Kitchen
The second most popular place for washingmachine - kitchen. Usually, the kitchen area, yet larger than a bathroom, to the same communication system is also near at hand. The kitchen can be arranged washing machine virtually any size, which is very important for the family houses.
Of the need to recognize the obvious disadvantages that consumerchemicals such as washing powder - this is not the best seasoning for dishes, so it is important to comply with the elementary carefully to avoid products not hit the powder dust.
Corridor or dressing
If the room for a washing machine there, itIt can be placed in the hallway or dressing room. The corridors are different in configuration, in square spaces can be arranged plasterboard niche that will hide all the communication and the machine will separate from the living area. This option is acceptable, working machine nobody bothers.
Loggias and balconies
Position the washing machine on the balcony, of courseIt can be, there is nothing surprising. Balcony is a little separate room for the washing machine, and there it will work itself and the noise is not audible. The only caveat, balcony or loggia need to be insulated to the level of the rooms.
The machine is designed to work in conditionscertain temperature, extreme temperatures and frosts can damage the system. Therefore, opting for the balcony, it is necessary to carry out serious work on warming.
Best of all, if the space for washing machine will be selected before the start of repair work. Pre-planning will help properly place the machine in the house.