Bio-fireplace in the interior of any apartment will not takea lot of space, do not require a chimney device and supply of wood, and at the same time can make it warm and cozy atmosphere. Increasingly, bio fireplaces are used in private homes, cottages, as it does not require costly training to install and low maintenance. Biofireplaces come in different types, and you need to determine exactly what is right for you.
The device biofireplaces
Any Bio Fireplace - a device consisting of individual items:
portal (body) - protects against contact with the hot parts of the structure, and performs a decorative function;
Burner - depending on Biofireplaces device can have different designs, but always an element in which the combustion of the fuel;
ferlektor - regulator power supply thermal airflow and its direction;
Door - protects against direct contact with the flame it may be made of various materials, including glass.
One of the main advantages is biofireplacesno need for a chimney, whereby it can be put anywhere in the room. The name of this fireplace was on the type of fuel: it uses fuels of biological origin, most often - bioethanol. A more correct to call biofireplaces "smokeless" fireplaces. Do not confuse them with electric: give the last heat, but this, of living fire about them.
In Bio Fireplace fire present, and from the usual"Real" fireplaces are distinguished by the fact that the fuel is burned in them without the smoke and toxic gases - products of combustion of bioethanol are water and carbon dioxide, which do not harm the environment and humans. Also, after combustion of biofuel ash is not that easy for maintenance Biofireplaces.
The main part of the fire - burner, usuallyperformed in the form of a metal container. In various kinds of bio fireplaces burner arranged differently. They may have a regulatory cover, through which is controlled by the magnitude of the flame and also be equipped with filters for cleaning the air.
Ignition of the fuel in the burner by means oflighters increased length or fireplace matches. The burner is inserted into a special socket in the housing and can be either removable or non-removable. To all materials used in the production of bio fireplaces, stringent fire safety requirements apply: they should not ignite when heated.
Functionality biofireplaces
Bio-fireplace in the interior performs several functions:
space heating,
interior decoration,
aromatherapy.
With heating function Bio Fireplace copes perfectly: room size of 50 square meters. m. it can raise the temperature ten degrees. Biofireplaces design allows it to be a real highlight of the interior virtually any style that is widely used by designers. Furthermore, it can be used to saturate the vapor space of aromatic oils, which is not only pleasant but also useful.
The fuel used in the Bio Fireplace consideredenvironmental - that is renewable. During combustion produces carbon dioxide, and in the amount that is absorbed by plants for the production of biomass, from which the fuel is obtained. On average, two to four hours burning fireplace requires one liter of biofuel.
Benefits of Bio Fireplace
Whatever device biofireplaces, it has undoubted advantages over conventional fireplaces:
consumed during burning biofuels, which does not form during the combustion of toxic or polluting substances;
during combustion is not allocated soot, dust, no odors, which makes it very comfortable to use, even in an urban environment;
additional approvals from the fire supervision and other services are not required;
Biofireplaces not need a chimney, extractor or special room ventilation system;
the device can be used in any room: apartment, office, restaurant, private home;
Biofireplaces care is simple: just need time to wash it with water from time to time;
Bio Fireplace, if necessary, can be easily moved to any place, it weighs less than 105 kg for the heaviest models;
Installation requires no special skills, you need only withstand fire regulations;
Fuel provision does not require large expenditures;
for every interior, you can find the right kinds of bio fireplaces, which not only gets warm, but also decorate the room living fire;
in the combustion process is possible sparks, so you can enjoy a real fire without the risk of damage the environment or cause a fire;
the difference in size and design features pozvolyut Bio Fireplace choose the most suitable to this premise;
simple design allows you to build a Bio Fireplace yourself and save on the purchase.
Disadvantages biofireplaces
Deficiencies in bio fireplaces bit, but they are still there:
fuel burning time is limited;
Fireplace can not repay at any time, so it needs to be fueling based on the estimated time of work;
the room is heated slowly enough;
at the beginning of the smell of alcohol.
Types of bio fireplaces
To Bio Fireplace in the interior looked well, you need to choose the right type of its construction. They differ in the place of its location:
wall;
board - look like large candles;
floor - they can be placed near a wall, and in the center of the room;
recessed;
biotopki - designed for integration in othervariety of fireplaces, for example, in the usual smoky in those cases, if you can not clean the chimney or the use of firewood is not possible for some reason;
false;
angle;
fireplaces in the form of pieces of furniture, such as coffee table.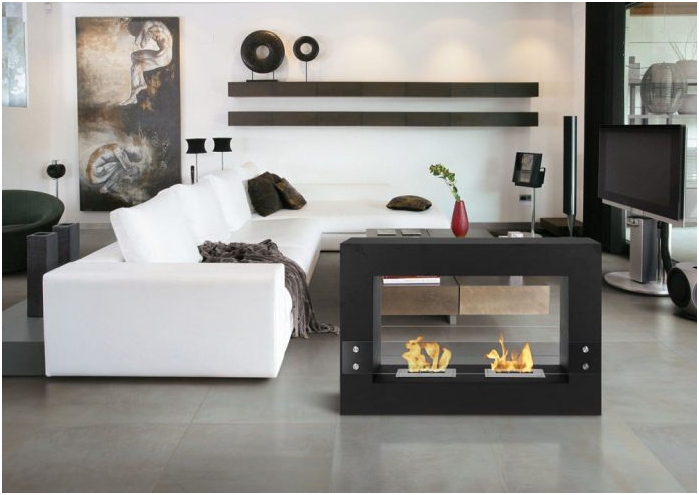 Those bio fireplaces, which are intended for mountingWall have fasteners. They are generally limited in size and can not be more than a meter. The basis of division into species may lie not only the device biofireplaces, but also its form, which can be either rectangular or round, and even curved.
Usually fireplaces have metal casing, the topcoated polymer composition. Outdoor versions are legs for support - with their help, you can adjust the height of the fireplace. There is even a bio fireplaces, fitted with wheels - they can be easily moved from place to place.
Differ fireplaces and size. Most are small, not exceeding half a meter - fireplaces, candles, equipped with a stand. Typically they have the form of suppositories, circular or rectangular, and screen glass for protection from open flames. Floor biofireplaces can be very large, and simulate normal "smoky" fireplaces.
Bio-fireplace in the interior
Whatever kinds of bio fireplaces you choose, you need toconsider that as the primary source of heat is not necessary to use them. But for additional heating, especially in the off season, so the fireplace fits perfectly. Still, the main function of the fireplace - no heating, and interior decoration.
Making its appearance can bediverse, which allows to enter the Bio Fireplace in the interior of virtually all styles and trends. However, floor biofireplaces large emit enough heat to warm a small room, even if the other heaters it is not, so the mobile versions of such devices, mounted on wheels, often used in the summer holiday homes. Mini-fireplaces in the form of candles are intended for interior decoration.