The design of the circular room can look veryI wonder if the right approach to the choice of the principles of finishes and materials for her. Rounded walls - not a flaw, but rather the opposite - dignity. These walls can be a special "highlight" of your apartment, and give it exclusivity.
Tip: rounded wall has decorative in nature, so do not perenagruzhat its additional decor. Do not get carried away, choose the most suitable option for you, and stay on it.
Round interiors are distinguished by the architectural design:
in terms of space is circular,
a rounded wall,
partition round shape.
In that case, if the plane is rounded in planIt has a considerable length, enough to be slightly emphasize this feature. In this case, the texture of the walls must be neutral in order not to interfere with the main - readable form.
On long curved walls in a circular designRooms look good decorative plaster (relief, Venetian), wooden panels (flexible) as well as non-standard cladding materials (eg cork or stone).
If the rounded wall of the right door, then it is better to make decorative. Originally looked at this case, sliding doors made of natural materials (glass, wood).
lining
Small rounded parts of the walls in the apartment areonly be built only for decorative purposes or to carry distinguishing feature space into zones. In this case it makes sense to focus on this element of the interior of the round, to emphasize its singularity. For this purpose, you can use unusual materials, such as plate glass, decorative panels of stone or wood, mosaic.
Rounded wall can perform the function of support(Column or semi-colony), the portal in the entrance area of ​​the apartment, or interior doors, it can be built into a window or doorway or window trim (with decorative objectives). In all these cases, the finish can be used: masonry, mosaic patterns, reflecting tiles (mirror or metal). Maybe even the use of tissues.
Decoration
When you create a design round the roomUse spectacular wall covering - only one option. For example, the walls can be left smooth, but decorate their decorative elements. This approach leaves room pretty fast change in the interior if you want to change.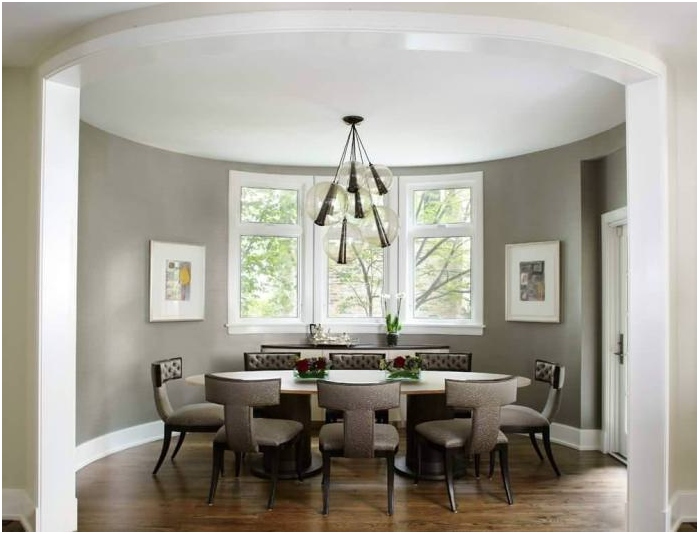 Tip: Never mix the two approaches, choose one thing: either textured wall finish materials, or the use of decoration for smooth walls.
The rounded wall niches can be built, and to place them in vases, figurines, pictures.
The use of lighting in niches such further emphasize complex terrain premises.
Paintings and framed photos to a wall, and the best to choose one picture or more, but the same size and placed in a row, so they more clearly emphasize the roundness of the wall.
Round interiors are not onlyattractive, but also functional, if we use the rounded wall to hang shelves or wall cabinets for storage. At the same shelf with books on their own and no additional decorative ornaments do not need, but the facades of wall cabinets have become an ornament - with this in mind and they have to choose.