Stylish and useful ideas for arranging small spaces
In the new review, practical examples were collectedhow you can take and transform their homes. Especially useful suggestions collected here will be those who have the apartment is not very big. In any case, it is necessary to take note of examples of the work done by professional designers.
1. Dressing in the corner
Open wardrobe in the corner.
A small piece of water pipe or roof rails allow to turn any empty corner of the bedroom in a modern open dressing for your favorite things or clothing.
2. Suspended bedside table
Compact table instead of hanging bedsides.
Suspended bedside table - a stylish andergonomic alternative to the standard cabinet. This table will place appropriate fines in bed and save valuable space in a small bedroom. Besides this piece of furniture can be made with their own hands, thus saving even own finances.
3. Hidden bookcase
Compact bookcase behind the door.
Usually, a blank wall for the room door -the perfect place to install a compact cabinet or shelving for books and other necessary details. This idea will allow to save space of a small room and make room for other equally essential things.
4. Zoning Space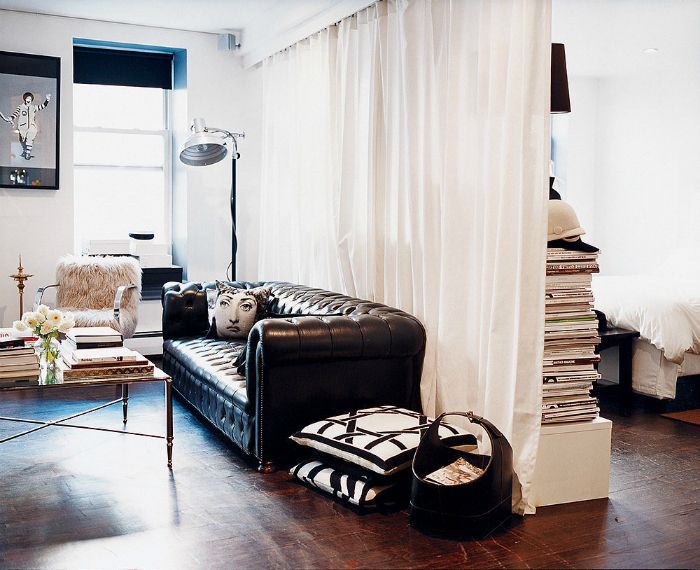 Zoning curtain space.
Despite the crazy popularitystudio apartments for living and recreation area a person needs a separate, hidden from prying eyes. Therefore, owners of studios and one-bedroom apartments, zoned space designers recommend using the curtains, which, unlike the walls, absolutely do not occupy space and become a stylish touch to a modern interior.
5. The original dining area
Unusual dining tables.
If room size is not possible to establishclassic dining table - experiment. For example, Get a wide table-shelf, which can be hung at the window in the kitchen or at the free wall of the living room.
6. A bed with drawers
Functional bed.
The bed frame and headboard which is equipped with drawers and shelves, allow to accommodate a lot of necessary things and get rid of the purchase of additional cabinet or bedside tables.
7. Storing funds in the bathroom
Table butylochnitsa storage of personal hygiene.
Cheap desktop stand for fine wineideal for storing bottles of styling products and shower gels. This idea will allow to restore order and significantly save space in the cabinet in the bathroom.
8. Organizer for household accessories
Wall butylochnitsa for storing household accessories.
Metal butylochnitsa, fixed on afrom the pantry or kitchen cabinet walls, perfect for storage of various household supplies, such as cloths, household gloves and detergents.
9. Kitchen organizer
Organizer of old louvered doors.
From the old tambour doors, painted in bright colors, you get not only a functional organizer for storing pots, pans and small kitchen accessories, but also a unique piece of decor.
10. The shelf above the sink
Convenient shelf over the sink.
The wall above the sink can be equipped with a stylishWooden shelves with high sides and a mesh, which is ideal for storing all kinds of cosmetics, dental cosmetics and fine liquors.
11. Poof transformer
Ottoman, transformed into a bed.
Transforming furniture - a real godsend forowners of small apartments. For example, as much as possible, you can get a stylish coffee table, an ottoman that unfolds and turns into a full bed.
12. Shelf for bath
Shelves for bathtubs and sinks.
Shelves on the tub and sink - this is not a whim, butfunctional item, which will increase the possibility of a bath or sink rim and place all the necessary cosmetics, soap and washcloths.
13. Built-in shelves
Built-in cell for storing towels.
Do not clutter up the already modestSpace toilets massive lockers and lots of shelves. Instead it is better to give preference to built-in shelves that are perfect for storing a variety of items and great save space.
14. Open shelves in the office
Workplace with open shelves.
The original system of interconnected shelves of different sizes would be a great alternative to the usual desktop, which takes a lot of space and spectacular decoration empty walls.
15. Closer to the floor
Low furniture in a small living room.
For the arrangement of a small living room with a lowthe ceiling is better to choose low compact furniture. This trick allows visually enlarge the modest size of the room to create a stylish and harmonious interior.
16. Second floor
The bed under the ceiling.
The bed under the ceiling - a stylish and fresh solutioncapable of not only significantly increase the chances of the room, but also make the interior unique. The vacant space under the bed can be used to create a mini-living room, wardrobe, workstation or gaming area.
Continuing the theme 8 creative ideas that will help to transform the interior of a bedroom in a rented apartmentWithout much difficulty.