Our accommodation is not always in line with ournotions of comfort: somewhere blame builders and designers, somewhere - we are. But in any case, with the help of interior design techniques can be approximated by a flat maximum, in which we live, to the ideal - in which we want to live!
Large areas of the room - the inheritance of the few owners of apartments, especially in some houses. However, if you apply some visual methods, you can create a feeling of a more spacious room.
Owners of large and spacious apartments areargue that "odnushku" how not to rebuild, still remain in the room all the same 15 square meters. Nevertheless, we believe that those inhabitants of urban high-rise buildings, which is that they can not buy a larger apartment, too, are entitled to the comfort that it is possible to create even a small apartment. So, do the space of the room visually more!
remove the partition
One of the most common ways to visuallyincrease the space - to combine in one room, removing the walls between them. It is necessary, first, to note that all the rooms are divided into two categories: private and guest
By guest rooms include an entrance hall, living room,kitchen, dining room - a common room, where the whole family, taking guests. And these rooms can, if desired, be combined. Today, there is a practice where the kitchen combined with dining room or living room, a living room with a hallway or even all of these rooms are combined into one.
It is also possible interior design when,removing the stationary wall, replace them with light sliding glass partitions: visually, the room is large and spacious, and actually - the premises are divided glass door or a screen.
Change the color scheme
A method for increasing the space viathe destruction of the walls may not suit everyone. But visually increase the space by changing the color gamut space - almost universal option. To a room seem more spacious, paint the walls in bright colors: pure white suit, light beige, cream, any bright warm colors visually expand the space. This is due to the fact that light colors like accumulate light, making the room more.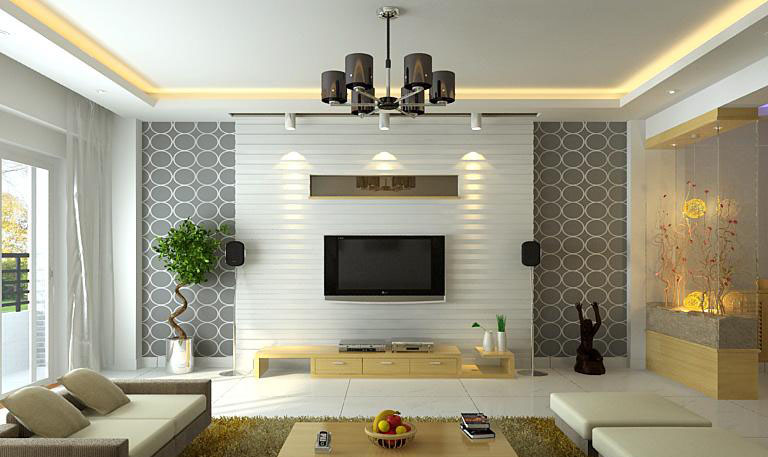 remove the excess
Did you notice what appear to be empty spaciouspremises, even if the area is not great? Therefore, in order to visually enlarge the space of the room, try to remove all the excess furniture cumbersome, especially if it is dark colored and massive structures.