Exquisite interior design art deco.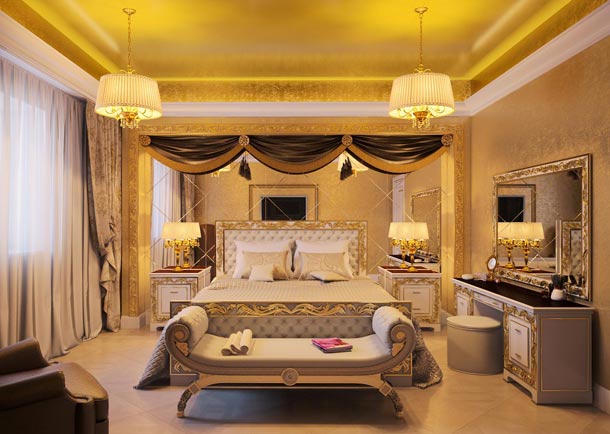 The most successful epithets for this styleThey are a luxury and exclusive. Every detail here has to be exclusive and original, but not intentionally garish and complex but refined. No wonder this style (Art Deco ) Interior has always been a favorite among Hollywood stars and fashion designers.
Features interior design art deco
This style appeared immediately after the First WorldWar. The desire for glitter and glamor was caused by fatigue from post-war poverty and discouragement. It was a kind of desire to start a new and better life, a rich life. In 1925, in the style in Paris was an exhibition was first exhibited works of art Art Deco. Soon, this trend has spread not only in the interior and architecture, but also in the fashion industry.

For style Art Deco characterized by luxury, avant-garde and ethnic motifsexotic countries. Oddly enough, this combination does not seem tasteless, but at this allows us to look at things from a new angle, creating a new trend. Sometimes it seems that the objects were created with certain interpretations, which is bright and clear with the help of a skilled design.
Materials for interior decoration in Art Deco styleuse expensive and unusual. It can be leather, skins, silk, expensive exotic woods. It is popular glossy and reflective surfaces: crystals, mirrors, glass, metal (typically use brass), polished to a marble finish.

One of the main features of this style aregeometrical forms and compositions thereof. First of all zigzags and rays, generalized circles, squares, diamonds, triangles, vertical stripes, irregular geometric shapes. These elements can be seen on the walls, ceiling, floor, and even decor.
As for the art deco decor is the use offolk art of ancient civilizations of Asia and Africa. In particular, wood, ivory and shoeing. But do not forget that all this should be in addition to contemporary art: paintings, statuettes, vases. The most common decoration has become a mirror

Not the last role is played and textiles. Curtains should be multi-layered, self-colored, it is better if they are made of glossy fabrics. Rather than place a rug on the floor is better to replace it with the skins of animals it will create a unique flavor, is now on the market a lot of artificial skins that simulates different types of skins.
As decorations used geometric motifs, abstract paintings, as well as stylized things in a baroque, oriental tsvety- it can be ekibany, dragons, and murals.
Light and lighting Art Deco
Art Deco is a pioneer and innovator - inthis style is a lot of attention was paid to the light sources. And all because - just after the First World in the homes of Europeans began to appear light- so it began to actively use. Industry quickly retooled to create the design of lighting fixtures and lamps. For Art Deco the most appropriate style of a luxury crystalsstained glass chandeliers, sconces, floor lamps. Today, this style is gaining again and regains its popularity. Bohemian, exclusivity and luxury are in vogue again.

As for the colors that it is dominated bycalm tones, which is diluted with some contrasting aktsentami- bright colors (burgundy, green, blue). Just make in the presence of metallic shades. The traditional combination - black + white + beige or gold or silver.
.