Examples of interior decoration using PVC pipes.
In the new review are presented to the readersthe most daring ideas about how you can use PVC pipe in the regeneration of the household, as well as the interior. Specifically, some of these options, like every master.
1. Interesting partition
A good option to transform a space by creating rooms with partitions made of PVC pipes.
2. The original wall in the bathroom
Cool version of bathroom design interior with a partition made of PVC pipes.
3. Modern interior
The successful design solution to decorate the interior of the bathroom excellent PVC partition.
4. Kitchen and dining area
Optimal organization of kitchen space and dining area.
5. The original solution
Room transformed using PVC pipes, which allowed to decorate the room is original.
6. Sample storage
A great option is convenient and practical to design the interior by means of PVC tubing.
7. Decoration of the stairs
A great option transfiguration stairs - decorating its PVC pipes.
8. Design solution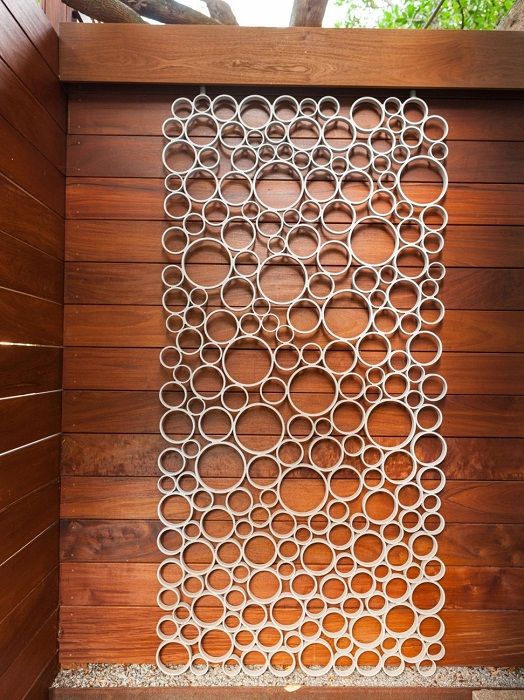 Decorate the wall is possible thanks to the PVC pipes that will create an enchanting mood.
9. Original flower pots
Non-standard solution to create original pots for flowers made of PVC pipes.
10. Making pots
Create a custom layout for pots of flowers will help beautify and transform the interior.
11. New Year's decor
Perhaps to decorate a wall in the New Year decoration using PVC pipes.
12. The original gazebo with PVC
Excellent design decision to decorate the gazebo PVC pipes.
13. Interesting decorating the yard
Beautiful design area around the PVC pipe at home.
14. Stand PVC
Creating an original placemat from PVC pipes.
15. Vase from a pipe
Modern and practical solution to equip the interior of a room with vases of PVC pipes.
16. Space for shoe storage
Create a place for storage of the PVC pipe.
17 Pots for colors
The original decision to equip the interior of the unusual pots for flowers.
18. Stand for storing wine
A successful solution to create a stand of PVC pipes for storing wine.
19. Laptop Stand
To optimize space in the room may stand for a laptop from the pipes.
20. The clothes dryer
A great option to create his own clothes dryer of PVC pipe.
21. Framing of mirrors
The modern design of the mirrors with a frame made of PVC pipes.
Dressing room space is one of the major steps in creating a cozy atmosphere in the house, apartment. Resorting to the original methods of design space is necessary to pay special attention to an overview of the ordinary use of PVC pipes in interior design.