Shelves that will transform the interior.
The angular space is most oftenunjustly forgotten. The most functional way of using it - placing the shelves. Explore design ideas angular shelves, which will decorate the interior.
1. Brilliant in its simplicity, design shelf
Shelf hallway with hangers
2. Roomy mini-library
Numerous shelves decorate the interior of the bedroom.
3. Miniature laconic regiment round shape
Shelf small but necessary details.
4. The scope and functionality
Shelf in constructivism style.
5. Custom asymmetry
Shelf unusual shape becomes a highlight of the interior.
6. In the loft
Homemade regiment of metal pipes.
7. Multi-storey corner shelf geometric shapes
Shelf contrasts with the color of the walls
8. Two in one - a chest of drawers shelf +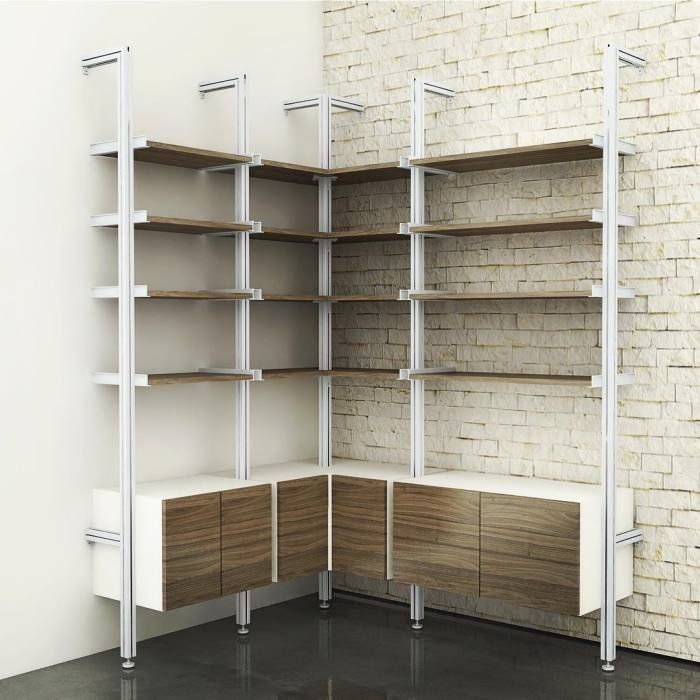 Spacious living room furniture.
9. Universal Trio
Three regiments joined together.
10. Exquisite carving
Shelf for ethnic interiors.
11. A simple but handy shelf
Laconic design will fit into any interior.
12. For projecting angles
Shelves visually combine two rooms.
13. Non-standard form of the standard elements
Despite the large size of the regiment it looks easy.
14. High-shelf rack
The advantage of shelves stellazha- mobility.
15. Functional transformer
This transformer shelf characterized by large capacity.
16. Of the few wooden planks
Shelf securely holds books.
17. Universal design
Easy to manufacture, yet comfortable shelves.
18. The most interesting - inside
Shelves in the wall of plasterboard.
19. Minimalistic rectangle
roomy Despite its modest size of the regiment.
20. From the old stairs
Wooden bookshelf.
Thus, the angular space is filled. About how to properly equip the interior of the premises, which can not boast of a solid area, read the article 28 best design ideas for small apartments.