Awesome ideas wall decor, which will help to freshen the interior bored.
If the situation in the house can be boredchange! Assist in the ideas gathered by our author in a new survey. Surely each of the readers like at least a few options, and perhaps he even wants to implement them at home.
1. Watercolor Ombre
Wall effect Ombre.
Watercolor paint for the walls - a real findfor the designer. It is easily applied, well mixed, and spreading, creates magical decorative effects. For example, armed with paint, roller and several brushes can be created on a blank wall with the popular watercolor effect Ombre.
2. Star Galaxy
Space painting wall.
Several shades of watercolor paint,special glitter, the presence of artistic skills and a good imagination will allow to decorate a dull wall drawing fantastic stellar galaxies, and geometric elements and clear color transitions make drawing and realistic surround.
3. Schematic portrait
The original image of the dog.
Original, funny and easy to carrying out a drawing of a dog's snout, which need to create a white paint, glue and a piece of cork backing.
4. Vintage Card
Map instead of wallpaper.
Map - stylish and original alternative to the usual wallpaper. Especially true map will look in the cabinet interior hallway or nursery.
5. Black and white graphics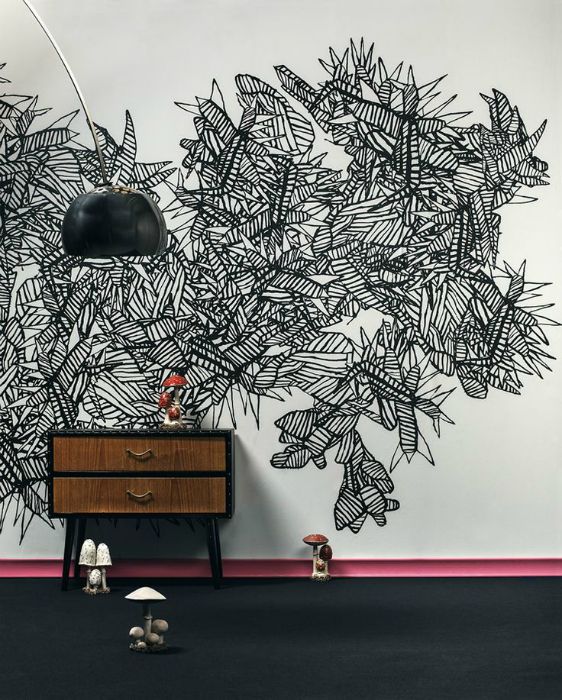 Black and white picture in a graphic style.
Stylish, massive risunuk in graphic style,made with a special artistic black marker, which, at first glance, looks very difficult, but if you look closely, it is clear that it consists entirely of lines that draw the power of even a child.
6. Flower fabric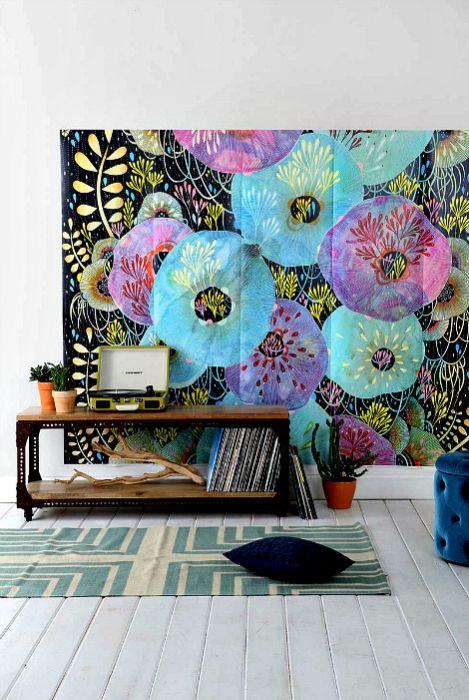 A large canvas with floral print.
The angle of light monochrome wall can be decorated with a large piece of wallpaper, decorated with floral print active.
7. undulating horizon
The original painting of the walls in two colors.
The original painting of the walls in dark gray and powdery colors with wavy horizon will allow to refresh children's wall.
8. Emerald chevron
Chevron pattern on a white wall.
White free kitchen wall, the living room or bedroom- The perfect base for creating popular today chevron pattern. Use masking tape and spray paint to get the most accurate picture and neat.
9. Colorful experiment
Mix the two colors.
At first glance, the wall looks unfinished, like a painter in the paint ended abruptly, but in fact it is a bold creative idea, which, incidentally looks very fresh and creative.
10. Stylish geometry
Geometric wall decor.
Geometric prints, despite its simplicity,always attract attention and look stylish. So that geometric pattern made in several shades of the same spectrum will be a bright accent any space.
11. Charming embroidery
The embroidered pattern on the wall.
Massive image roses, made with a pencil, ruler and acrylic paints, which looks like the clever embroidery, will be a charming decoration of the walls of one of the girl's bedroom.
12. Majestic deer
A large image of the deer.
The original sticker, wallpapers or large deer picture, ordered the printing house, will be a terrific decoration monochromatic walls and bring in positive energy of the room.
13. Simple Words
The inscriptions on the wall.
Meaningful words and succinct quotes - perhaps the most simple and at the same time bold and effective way to transform a blank wall or a fragment thereof.
14. Slate paint
Painting walls grifelkoy paint.
Slate painting one of the walls of the room -fresh, stylish and fairly low-end solution, which will give the creative person a huge scope for self-expression, and will be a real highlight of the modern interior.
15. Fragments of comics
Black and white pieces of comics on the wall.
Black and white pieces of favorite comics, printed on paper or cardboard, will become creative materials to decorate one of the walls of his apartment.
16. Butterflies
Composition of colored butterflies.
The composition of butterflies figures cut out of felt, a large dry branches and wires will be a great decoration of one of the walls of children's rooms.
17. pompons from thread
Wall Decor soft pompons.
Transform a boring wall, you can use colored pompoms made of yarn remnants.
18. String Art
Map technique string art.
The most daring and creative individuals can try to decorate one of the walls of his apartment stylish world map in the technique of string art.
19. Golden Moon
Huge moon pattern on the wall.
A huge moon image drawn atusing brushes and liquid gold paint will be a unique decoration of white wall, will make the interior very stylish and brings the room hints of mystery.
Continuing the theme 12 great ideasThat will help to optimize the space small bedroom.