Budgetary techniques to help upgrade the housing.
Readers new survey which werecollected the most affordable, but they are by no means the worst options for interior decoration in the house and apartment. Specifically, the advice offered here should take note of each host.
1. Opening of the storage system
Otkrytye hangers and shelves.
Otkrytye hangers, racks and rails - isPerhaps the most simple and affordable storage system that can not only accommodate a lot of very different things, but also to become an interesting detail of the interior, making the things of everyday use in the exhibition copies.
2. The original flower pots
Creative flower pots.
Freshen up the interior and make it more colorful andcozy indoor plants help in the original pots, which can be made from tin cans, light bulbs, wine corks, old cups and any other original things. These pots can hang from the ceiling, decorate their walls and window sills.
3. Upgrade stools
Bright painted stools.
If you can not paint the walls, start with furniture. Several cans of spray paint transformed the faceless wooden stools and chairs.
4. Creative furniture
The original pieces of furniture.
Several original pieces of furniture pozvolyatbring to the interior a bit of dynamics, to make housing a unique and stylish. For example, a bedside table in the bedroom as a stump will make a much cozier, bookshelf in the form of tree branches will be a wonderful decoration of the walls, and the charming chair with hare ears turn the living room into a magical place.
5. Homemade shelves
Bright and original shelves.
Metal baskets, board, plywood, woodenand even cardboard boxes can be used to create unique modular shelves of their own design, which are suitable not only for books, but also will become a delightful decoration of the walls.
6. Decor cabinets
Decor old shelves and cabinets.
Update old cabinets and dressers helps bright fabric or wallpaper. The selected material is simply attached to the inner wall of the enclosure and enjoy the new look of the old furniture.
7. New facades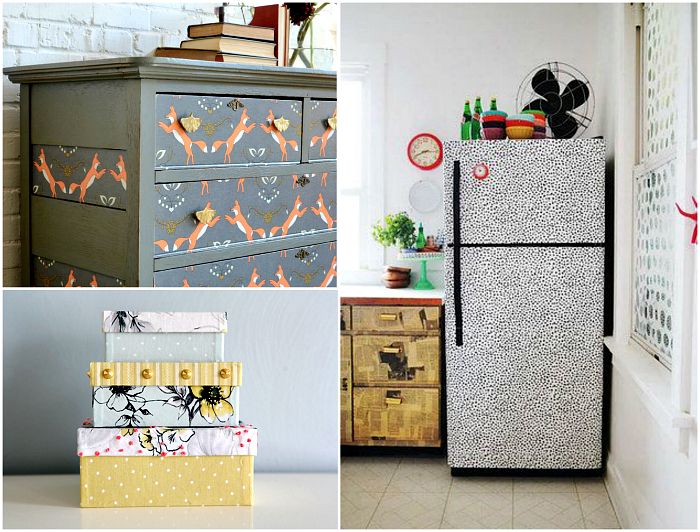 Bright facades of furniture.
Hide existing defects or simply updatebored with the old furniture helps adhesive films, wallpaper or wrapping paper. This way you can decorate the facade of an old refrigerator, transform an ordinary chest of drawers or turn ordinary boxes of a shoe in the original storage system.
8. Cushions
Cushions with their own hands.
As you know, the little things form the interior, makecomfortable accommodations and unique. These little things are just cushions, which can be done with his own hands from an old dress or a knitted sweater.
9. Gallery
Creative ideas accommodation pictures.
Favorite pictures, paintings or posters can be hungon pegs or hangers. This arrangement eliminates the need paintings buy the set framework, will not spoil the wall and will be a real highlight of the room.
10. Furniture on wheels
Mobile furniture.
If possible, choose furniture on wheels, which can be rearranged at any time or use in several rooms.
11. Bright carpets and cloths
Carpets, handmade napkin.
Original handmade carpets and cloth will help to hide defects in walls and floors, as well as making a house comfortable and unique.
12. Shelves and racks of stairs
Creative shelves and hangers.
Stylish original shelves and hangers can be made of ordinary wooden stairs, the purchase of which will cost much cheaper than rack or hanger.
13. Plates and trays
The walls are decorated with plates and trays.
Instead of storing dishes and trays,that no one uses, in closets and cupboards, hang them on the wall. This little trick allows to unload the cabinets, as well as great to refresh one of the walls of the kitchen or living room.
14. Colour of Scotch
Notes and photos pasted on colored sticky tape.
Notes, cards and photographs pasted on colored tape, look very impressive and can liven up a boring work area.
15. headboard
The original headboard.
Make the headboard of his bed, and the originalstylish. For example, if your bed is not the head, it is possible to draw, make garlands, plywood, wooden boards or any other scrap materials. Existing as a headboard can be decorated with fabric, thread, ribbons and garlands.
Video bonus:
16. Wooden boards
Wall decorated with wooden planks.
Update the look of dull room will wall of adhesive wooden planks. This method will make the room cozy and luxurious without large capital investments.
17. Support for knives
Original painting stand for knives.
The original painting can bring even the most simple to turn a wooden stand for knives into something stylish and original.
Video bonus: