Decor flower pots.
Flowers in pots there in every home. But many people think that the presence of green enough to decorate the home. As a result of growing flowers in pots, which are hopelessly spoil their appearance. But throw pots is not necessarily unattractive. Explore the wonderful ideas that will help transform them and make them even more beautiful houseplants.
1. Pots that do not freeze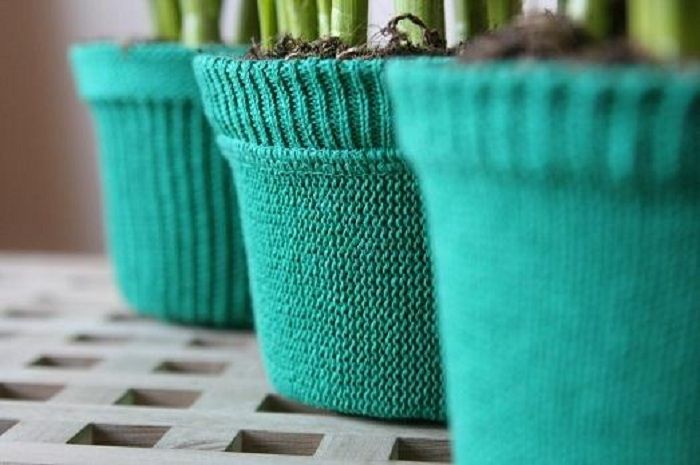 Luxurious texture of knitted fabric.
Warm winter sweater, which is no longer possible to wear, will be an excellent material for decoration of flower pots with their hands. Cut off the sleeves, tuck the edges and put a flower.
2. For the economic
Flower pots with their hands from wooden pegs.
Garnish with a low capacity for colors obtained using wooden pegs. Just attach them to its upper edge.
3. Elegant cans ...
Flowerpots made of tin.
Thin rubber cord and beads will make oftin cute flower pot. If the string is not found, then replace it with a multi-colored threads for knitting. To secure the bead using a silicone adhesive.
4. Soft glass glitter
Decorative stones for aquarium glued to the pot.
Decorative glass stones, which are used for decoration of aquariums, and useful to decorate flower pots with their hands. They just need to stick to the surface of the pot.
5. Back to school
Pencils in the decoration of the flower pot with his own hands.
A set of colored pencils, or simple, glued to the pot, it will transform. Additionally, use decorative cord, ribbons, bows.
6. In the style of grunge
paint drips are decorated flowerpot.
paint drip pot to look a little sloppy, but very impressive. Turn the pot and pour it on the bottom of a little of the desired paint color. Turn the pot so that formed streaks.
7. A little gold
Pink and gold - a win-win combination.
Paint pots in any bright color, for example,pink. After drying with the help of adhesive tape mark the outline of the future pattern - a triangle and fill it with gold paint. When the figure is dry, carefully remove the cling film.
8. Cozy Shabby-chic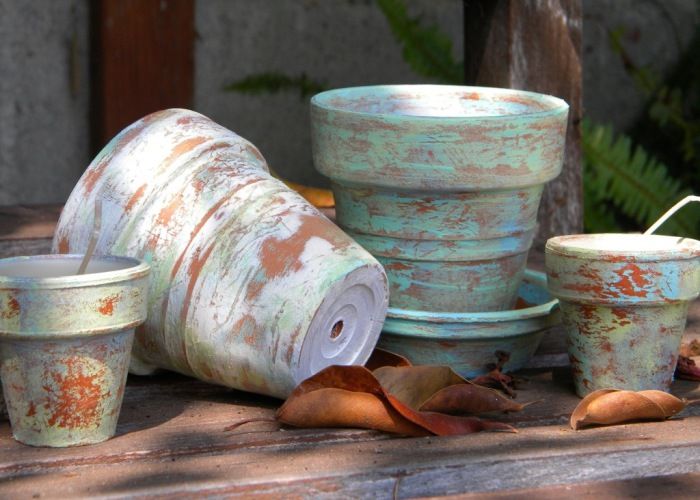 Shabby but beautiful pots.
Paint ceramic or brown plasticpots of bright acrylic paint. After it is completely dry sandpaper is necessary to clean up some areas. To a flower pot with their hands look even more spectacular, use multiple colors of paint.
9. The Flower Pot manly
The second life of old leather belts.
Old leather belts will be an unusual decoration for the flower pot. Cut them so that they are tightly fastened on the pot, not sagging.
10. Unusual relief
Embossed pots.
Apply on the surface of the pots any relief detail, such as legumes or wine corks. Then dye.
11. Sweet negligence
Very simple decor flower pots with their hands.
Slightly deform metal cans and paint them in the desired color. Do not forget about the hole in the bottom - it is necessary to drain excess fluid when watering flowers.
12. Texture decor in country-style
Rope as decor.
Large rope or cord suited tomake a flower pot with his own hands. Generously apply silicone adhesive on its surface and tightly wrap the rope. Several coils can be painted in a contrasting color.
13. Wood, who goes out of style
For such a decoration of the pot will have some work to do.
Decorate a flower pot with your hands can be glued using thin cut down a tree. The easiest way to do this - cut into thin twig using sharp wire cutters.
14. Cloth decoupage
Bright decoupage on the pots.
The technology to perform such an impressive decorvery simple. Slightly dilute PVA glue with water. A piece of fabric the desired size of the pot to smooth the surface with a brush, generously soaked in the adhesive solution. If the pot is made of smooth plastic, it is pre-prime with acrylic paint. After drying, the fabric cover the pot with varnish.
15. Memories of vacation
Large pebbles decorated with a flower pot.
Sea or river pebbles, brought from vacationas a souvenir, it can be useful. Use the "liquid nails" glue obkleyte surface of the flower pot. If the natural texture of stone seems attractive enough, then dye them.
16. Ceramic mosaic tiles
Mosaic flower pot.
A couple of tiles left over afterrepair, little beads and buttons, shards of china will be the original raw material for the manufacture of mosaic. Ceramic tiles break a hammer and glue to the pot. The remaining space is filled with the remaining minutiae. When the glue dries, fill the joints between the ordinary tile grout.
After the flower pot decorated, they can decorate the living room. And in order to make this room look even more impressive, read on 20 exciting ideas that will transform the interior of a small living room.