Unusual solutions for the small living room.
Spacious living room, which can accommodatea large group of friends - the dream of many. But most of all, far from the reality. How to arrange the living room that nobody noticed its diminutive size, but marveled at its spectacular design? Share ideas for interior room, which has not yet had time to get bored.
1. Cabinet under the color of the walls
White glossy cabinet increases the small living room.
Wardrobe, which is similar to the color of the walls - the perfectsolution for visual extension of the space in which so needs a little living room. In order to room looked original, be sure to pay attention to the white furniture cool design.
2. The ornament is never too much
Vivid detail in the interior of a small living room neutral.
Space for the decor and furniture is not enough? For ornaments on textiles accurately enough. It is desirable that the base in the living room was neutral shade: white, gray, beige ... And all the ornaments recommend withstand two or three colors.
3. Duo coffee tables
Different coffee tables.
Coffee tables do not take up much space in the living room. But they can hold a lot of useful things. Tables, radically different in design, will make the interior of a small living room dynamic.
4. A new look at the classics
Ekletika with classical elements.
Classic style - not the best solution fora small living room. But the elements of this style in ironic performance would be appropriate even in a limited space. Simplified forms, more vivid colors, affordable materials are the characteristic features of a small living room design.
5. Boring brown
Brutal brown interior.
From the usual all brown designthe interior is sometimes difficult to refuse. Especially since this color is strongly associated with home comfort and hospitality. But to a small living room look nontrivial, use brown in complex textures. For example, in the skin, stone and brick.
6. Colored splashes on white
Vivid details enliven the atmosphere.
Interior with white walls and the floor may look uncomfortable. Bright colors will cheer up everyone in the living room and make the atmosphere more dynamic, having an intensive dialogue.
7. Bright door
Unusual door.
Doors unusual color - a simple but effectivesolution to transform the interior of a small living room. A little bright paint and a couple of hours the composite time- and emphasis in the design of the living room is ready. An important advantage of such interior highlight is that it does not take any extra centimeter in a small room.
8. A pair of sofas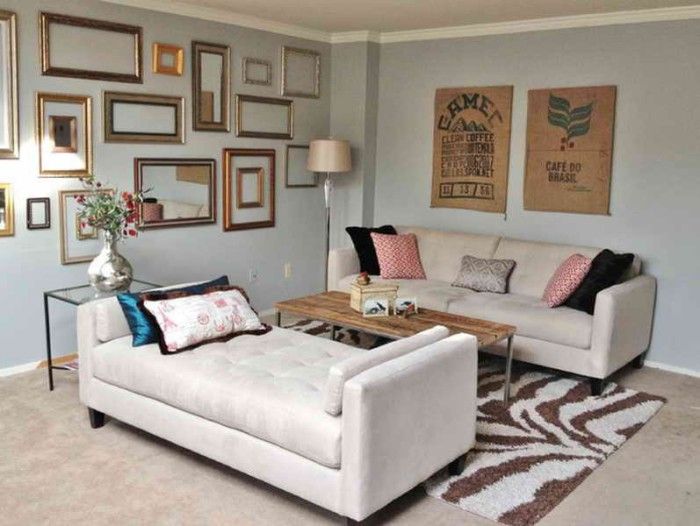 Two compact sofa in the interior of a small living room.
Narrow sofas will not take a lot of the couch, butcan accommodate a large group of guests, and become extra beds. To such a large furniture will not look bulky, stop for a light-colored models.
9. Gray - the color of millionaires
Elegant gray interior.
A small living room, where the predominant color is gray, looks noble and elegant. Combine several shades of gray to the interior became expressive.
10. Unusual shelf
Place shelf there, even in the interior of a small living room.
Without shelves does not do any one living room. Do not occupy the entire length of the wall shelves and place them unconventionally. For example, high above the sofa in the corner or niche.
11. Black on white
Contrast and spectacular environment.
Black and white interior room easily recreate in all conditions. Contrasting details on the background of bright trim look dramatic, but it is easy.
12. chairs instead of sofas
Extravagant chair replaced the sofa.
If the room is so small that the bedseem an unaffordable luxury because of its size, then replace it with a pair of armchairs. If you choose an unusual model, they can be a real highlight of the interior.
13. Accent wall
Accent walls are an unusual interior.
Wall painted in pure and bright color, a variety of any interior. Several details in tone - and unusual furnishings in the living room is provided.
14. For lovers of reading
Mini-library in the living room.
If the space for the living room as a separate room is notenough, then it can be separated from the rest of the housing space by means of high bookshelves. A Organize a reading corner - put a comfortable chair and a coffee table.
15. sofa- regiment ...
Sofa unusual shape is very functional.
The studio apartment can arrange living room, order the production of custom sofa. One of his armrests replace the bookshelf, and its upper part also serves as a coffee table.
16. Perfect Symmetry
Harmonious interior little living room.
The space filled symmetrically perceived as more harmonious and orderly. For a small living room is very important.
17. Easy multifunctionality
Desk can serve as a dressing.
Place for a small workplace even therea small living room. Regardless of the square footage of the room, it will do even more functional. Just hang a mirror over the table, and he will be working out of even dressing.
18. Comfortable style a la Shabby-chic
Style a la Shabby-chic and appropriate in a miniature living room.
Old things there are in each apartment. A little remake them, for example, in addition to grow old or stain, a small living room easily get styled by Shabby-chic.
19. The walls, which fades into the floor
Same color of the walls and the floor visually enhances the living room.
Visually increase the small living room you get when you choose the flooring material of the same color. For example, paint and carpet.
20. Home Art Gallery
Bohemian small living room.
The walls are an unusual color, a lot of thematicwall decor, combined with old furniture will create a bohemian atmosphere in the living room. Time spent with friends or loved ones in such a creative atmosphere, fly by.
If a small living room already established, it's time to take care of the interior of the other rooms. For example, to explore ideas that will help transform the bedroom inexpensively.