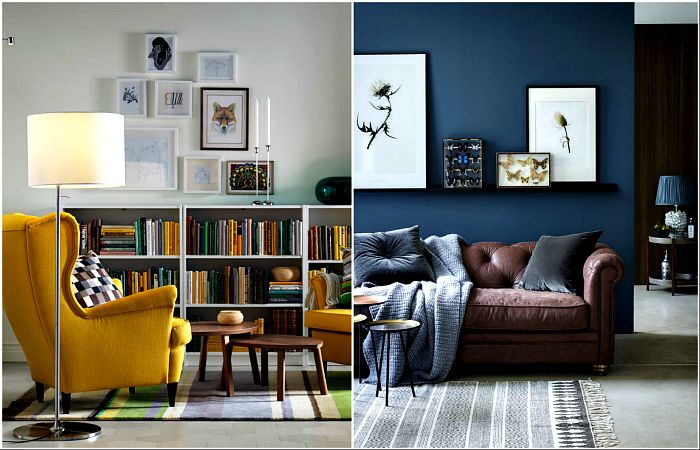 Inspiring living rooms, decorated according to the latest fashion trends.
Living most important room in the house. Make it might not be easy. How exactly this can and should do, we offer to find out from a new survey. It is possible that some of the options and to please our readers.
1. Rustic motifs
The spacious living room with rustic elements.
Bright and spacious living room with modern furniture and lots of wooden details like rough beams on the ceiling, coffee table, dresser and framing the fireplace.
2. Picture gallery
Bright living room with an abundance of stylish decor.
Small living room with light walls, the highlight of which was the rich detail of bright orange and a few stylish paintings with images of various shells.
3. Pastel gamma
Modern interior room in pastel colors.
Elegant living room, decorated in pastel shades of blue, green and yellow, which create an atmosphere of ease and coolness in the interior.
4. Rampage life
The cheerful interior of a small living room.
Wonderful living room with neutral walls, bright accents in the form of soft green chairs and floor lamps, mirrors the original golden frame and an abundance of flowers.
5. Botanical motifs
The bright living room with dark green accent wall.
Incredible room with accent wall trendy dark green color and botanical elements of the decor, which favorably stand out against the pure white finish.
6. boho style
Impressive living in boho style.
Amazing living room interior in the popularbohemian style with light walls, the original coffee table and a chest of drawers, a bright colorful carpet, a variety of multi-colored cushions and plenty of assorted pictures on the wall.
7. Abundance
Bright living room with an abundance of stylish decor.
It offers modern living room, the highlight of which was the motley furniture and an abundance of stylish decor, creating a cozy and makes the interior unique.
8. Masonry
Stylish living room with a brick wall.
Spacious living room, which miraculously blended elements of industrial and bohemian style.
9. Pripyleny charm
Living in pink and gray colors.
Charming living room with walls of fashionable dusty pink shade, a large gray sofa, a table and a rough gray narrow console, which was able to locate the desired detail and decoration.
10. Marine theme
Stylish living room with elements of the sea style.
Elegant interior of a small living room withwhite walls and contrasting dark floor, the highlight of which was the original textiles in a marine style and catchy painting of colorful bird feathers.
11. Minimalism
Laconic interiors in neutral colors.
Laconic interior living room decorated withpopular minimalist style with an elegant gray sofa, puffs charming, stylish desk and carefully selected décor in the form of round mirrors, living plant and the composition of the three vessels of different shapes.
12. Vivid Yellow
Living room with bright yellow armchairs.
Living room with a snow-white finish and two bookshelves which became a highlight of two armchairs magnificent rich yellow color.
13. The imprint of individuality
It offers a stylish living room with mustard accents.
Living in neutral white and gray tones withexpressive splashes of trendy mustard and plenty of carefully chosen decor and orderly in the form of paintings on the shelf vases on a windowsill, and ceramic composition on the coffee table.
14. Ethnic motives
Bold Living with the elements of ethnic style.
A great space with glossy black walls, bright orange sofa, soft coffee table decorated with prints, like zebra and lots of color causing ethnic decor.
15. Boring gray
A small living room with gray walls.
Incredibly stylish living room with gray walls and the same sofa, the highlight of which was a contrast wooden furniture and stylish composition of the paintings on the wall.
16. velvet sofa
A bright space with an elegant velvet sofa.
The spacious living room with white walls, expensive chairs, upholstered in brown leather and trendy velvet sofa, deep green color, which has become a major part of this space.
17. Bright details
Living room with black walls and a bright décor.
The bold design of the living room with fashion this seasonblack finish of the walls and an abundance of bright decor in the form of a colorful abstract painting in the style of the carpet with colored geometric print and a variety of assorted cushions.
18. A stylish combination
Living room in blue and pink.
Stunning living room with luxurious sofa color pink quartz, which looks just amazing on a background of the dark blue walls.
19. Black and Gold
Living room in black and gold color.
Luxurious living room with white walls, elegant velvet sofa in black and lots of stylish features black and gold colors.
Video bonus: