Deck the Landscape, metal, textiles, designer Jeffrey Bernett, B & B Italia
Anyone who is interested in fashion and design news, it is interesting to look at dizainall page.
You can gather a lot of useful information, learn about the best practices and methods that are used in interior design and more.
Sunbeds - new advanced model
A special kind of design is the design ofNatural open spaces, gardens, areas around the country houses. Try to understand that the offer contemporary artists for a comfortable human outdoor recreation.
Charming chaise lounge, which is very suitablemen who choose elegant minimalist forms. In the product there are no spare parts, looks very attractive lines of grace, and in practical use immediately felt comfort and convenience. Very sturdy frame made of steel parts, the color of which stylized nickel plated.
Thermoplastic soften tipsthe movement of sun loungers. Comfortable cushion filled with polyurethane foam, which is well breathable, well ventilated and due to its cellular structure is conveniently adjusted to the atomic structure of the neck.
Cover of this product is made of Kvadrat fabrics andIt is removable. With the system of magnets can change the position of the cover, depending on what he wants people resting - sleeping, reading or watching TV. In this model, few legs are bent, which allows to wobble slightly as a rocking chair.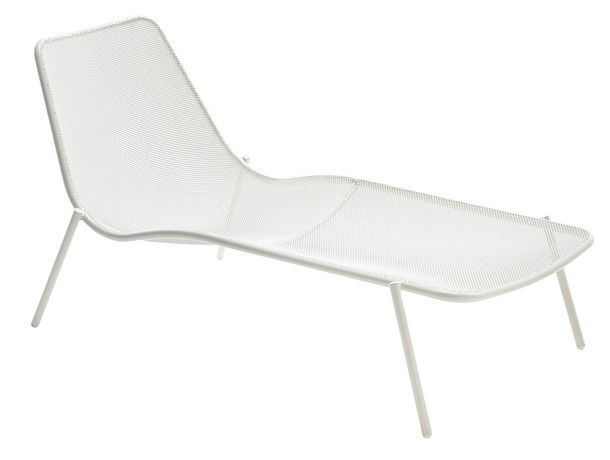 Chaise Round, metal, Emu
Company Emu Group S.p.A. It specializes in the manufacture of furniture for open spaces. It makes wood furniture for the streets, wicker furniture and metal furniture of plastics.
Lightness and grace
Deck chair from the collection of designer Round Christophe Pillet is a classic example of this type of furniture. Objects of this collection are light and elegant.
The frame of this product consists of a metaltubes that are galvanized coating to protect against corrosion and resistant to external influences. Atractive this subject by tech polyester paint. This model was a success at the exhibition in Milan.
Deckchair, metal, textiles, Royal Botania
Modern original form of outdoor furniture factory Belgian Royal Botania is not only pleasing to the eye, but also are of high quality and good taste characterize the owners.
Steel and fabric
Deck-chair, made of stainless steeland synthetic fabric, striking conciseness and elegance. The unusual shape does not detract from the amenities that can be felt, experienced this model.
Furniture of this company is different in that every detail is thoroughly thought through and is counted, and all metal and synthetic parts are suitable for recycling and further use.
Deckchair, wood, metal, designer Wolfgang Pichler, Viteo
Wood and metal
Elegant hammock by designer Wolfgang Pichlerengineered with German care and thoroughness. Products that combine materials such as wood and metal, will look good in any garden design.
Excellent quality stainless steel, which is made from the carcass, its resistance to salt water allows you to place the chaise lounge right on the beach.
Teak wood has the best characteristics, and the original design of reechek allows you to relax and experience the unique comfort.
Deckchair Olga, wood, textiles, Punkalive
Strength and elegance
The author of this chaise longue - Russian designer Christina Magnitsky, who is currently working in the Italian company Punkalive. Her collection of furniture Olga has a smooth, soft contours.
Objects of this collection, as well as our product,Kerto® made of a unique material. Glued layers of wood veneer with a longitudinal direction of the fibers form a timber of the highest strength, holding perfectly geometric shapes, light, beautiful, absorbing noise, fire-resistant and easily treatable.
This material is effectively combined with more resilient materials, such as upholstery textiles and soft pillows. It was used in this work provided.
Chaise of Luna collection, metal, polyethylene, Gandia Blasco
It's hard to come up with something more concise andburdened excesses than the chaise, made in the Spanish company Gandia Blasco. Line items of the Luna collection beyond the Cartesian geometry in his quest for lightness circuits.
Simplicity
The outlines are taken from the abstract representations of the world, but a subtle calculation allows to adapt them to the lines of the human body.
A natural combination of stainless steel and the thin polyethylene film helped get the purity of form and feeling of space around the object.
Lightness, elegance and good opportunitylook anywhere are the characteristic features of this collection. The attractiveness of this product is a combination of stylish simplicity and light hint of some kind of innuendo.
Deck the Newport, synthetic fiber, textile, Fendi Casa
In contrast to the previous object, chaise Newport looks very bourgeois. All collections from the fashion house Fendi Italian is very relevant and at the same time luxurious.
lines
The care in the selection of materials, strict adherence to design proportions and lines, special upholstery manufacturing technology, the use of soft and delicate tissues - this is the style of furniture Fendi.
The collections developed by this firm specifically for open spaces - gardens, terraces, parks - everything is done so as to create an atmosphere of comfort, beauty and aesthetic pleasure.
Our chaise longue made from valuable materials that behave well under natural conditions. Its design is preserved a rare balance between comfort and aesthetics.
Upholstered furniture is designed for streets and town houses, will relax and have a rest from the noisy city.
Traffic Deck chair, metal, textiles, designer Fabrice Burr, Roche Bobois
Bright and elegant design Traffic sunbeds will look great in any open space and turn an ordinary suburban area around the house in a comfortable and interesting place.
Vanguard and functionality
There you will relax and get away from the bustleeveryday city life and monotony of everyday life. French designer Fabrice Burr, who created this miracle plant for Roche Bobois, joins in their projects sophistication of French charm, modernity at the highest level of innovation and amazing functionality.
It must be said that this factory halfRussian roots. In the creation of the now very well-known brand took part Russian emigrants. Excellent product quality is achieved by Roche Bobois beautiful plants and equipment using the highest quality components. Any material is thoroughly checked before it is applied in the manufacture of products of this company.
The Lazy Lounger, metal, textiles, designer Michelle Bukiyon, of Serralunga
The designer from Belgium Michel Bukiyon created for the company Serralunga so-called "lazy" furniture series called Lazy, which translated to English means "lazy".
Versatility
Lazy Lounger included in this collection. It is made of damp-proof material used in its manufacture are very uniform with aluminum and stainless steel structure.
The main advantage of this furniture is that it is very taxing. It can not clean up for the night in the house, can be thrown on the street in the rain.
These items do not require careful maintenance, theyquite light and very easy to use. At the same curves and lines of this furniture is quite perfect and designed to the highest standards of orthopedics. Lazing in the sun lounger Lazy, people will be able to truly relax.
Deckchair, textiles, wood, designer Wim Seghers, Tribu
Tribu company which made chaise lounge designed by the famous Belgian designer Wim Seghers, was once at the forefront of development of the concept of the garden as an extension of the territory of the home.
Comfort and quality
This chaise longue is fully integrated into such a theory. He is handsome and kindness, it is convenient to move - in this embodiment are provided wheels. Style, which made this subject, modern, clean and simple.
It offers a comfortable rest and enjoyablereflections. Only high quality components are included in the composition of the furniture of this firm. In production used materials such as teak, metal and special fabrics that are ideal for use outdoors.
Outdoor chair with attached stool Nichi Beach, tree, Fendi Casa
Company Fendi Casa is considered the vanguard of Italian street design. The original solution for outdoor recreation - a comfortable chair and a stool Adjacent to which you can put your feet up.
The elegance and durability
Perhaps, in some cases, even this optionmore preferable than something on what you can lie. Elegance, strength and reliability of this kit is very suitable for people who know how to appreciate the solidity and respectability.
Features comfort and expediencythe subject is not inferior to its aesthetic characteristics. The materials from which it is made, have the highest performance. The harmonious combination of top-quality wood and lightest metal gives the product some avantazhnost and sophistication.
All those who have holiday homes and villas, wantsee your site well maintained and beautiful. Rest on this site is nice and cozy. Landscaping can make a miracle and turn an ordinary territory in a convenient place for rest and successful modern outdoor furniture will make in the life of even greater comfort.