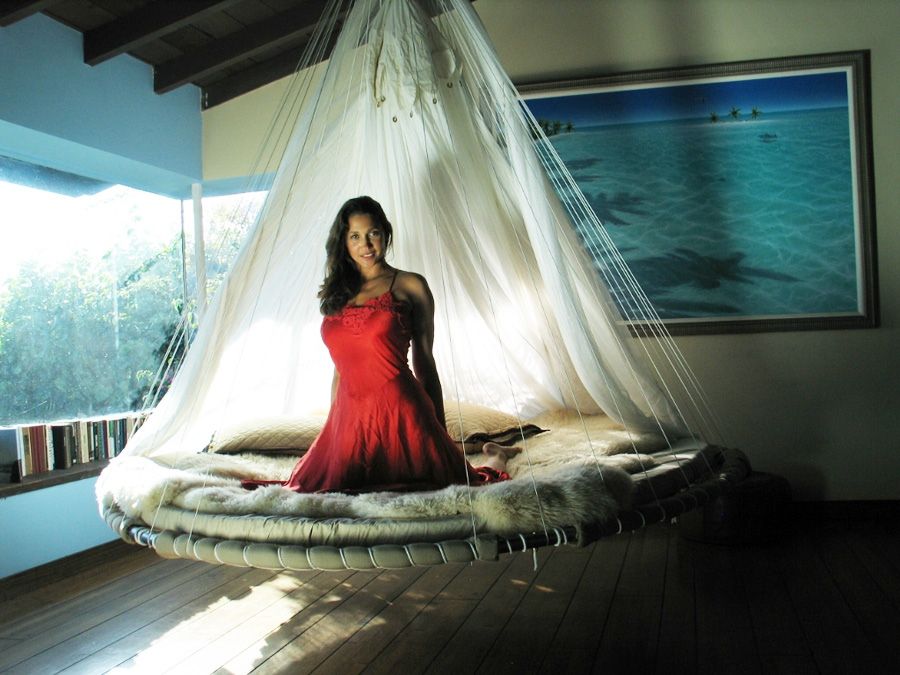 The creator of this unique hovering in the air construction John Huff (John Huff) once thought, "What should be the perfect bed, that it should be such that everyone can fall in love with her?"
From the first months of life, the gentle rocking soothes the baby, it acts positively on an adult.
But swinging hammock, suspended for 4 points,snare and does not provide the desired relaxation. The key to the perfect place for a dream became a special design, which gives direct surface floating movement.
Luxury swing or tent
Wonderful bed is a light conewith a wide base. Strong thread weave around the hoop hard and rush upstairs where gracefully collected at one point. At this point, the cone is attached to the ceiling or special design.
In such luxury swing a good time in a friendly conversation. Relaxing swinging conjures up memories of carefree childhood.
Wonderful invention can be installed in the apartment, and a tent canopy.
The bed with canopy can turn into incredibly attractive resting place in the courtyard of a five star hotel.
Before us - a magnificent example of refined esthetics. At the same time it is extremely easy to use: gently swinging, has an elastic bed and an adjustable height above the floor.
The support structure may have a light fold canopy. You can not only fun to chat with her friends, but also to relax in partial shade with a book.
See how good are these triangular tents as sails! Light breeze swaying and gives the illusion of a sea voyage.
What could be more romantic than this gentle swaying canopy in the shade of the old park!
Quiet swinging give a magical sleep under the tweet on the terrace.
The snow-white curtains create a trusting environment and to protect from prying eyes.
Mosquito net reliably protect against flying insects.