You have a problem with the arrangement of street buildingssuch as a spacious veranda or cozy terrace? In this article, devoted to the details of furniture and decorations will be told about the most interesting novelties of this year, as well as the simple things well and allow to rest comfortably on the background of nature.
Fashion trends in furniture design
However Kettal Patricia Urquiola has produced striking chair, with a very appropriate name Roll.
Design studio Brichet Ziegler presented on display its new series, with the telling name of Week-End. One of the items in the collection is a comfortable chaise longue.
Michael Hilgers created a very interesting table - suspended, and gave him the name balKonzept.
Company Tribu made a very simple but quite comfortable couch Tosca.
Extreme by Dirk Vinantsa - grill with a striking name "Crater".
Classy type trash from the Trash Chic designer Selab became one of the most successful inventions
Designboom.
Sebastian Herkner created original chair Banjooli, which can become an ornament to any yard.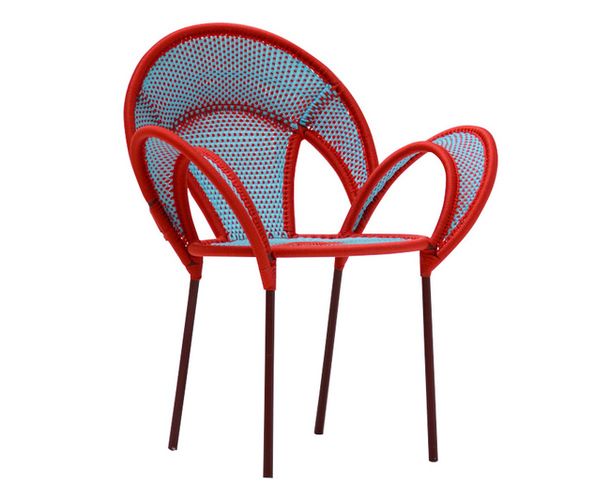 Interesting type of candle holder, made of glass with decoration in the form of leather straps, was presented to the customer and it's called Eichholtz.
Edition Design belongs to the table, "Illusion", got its name from the hexagonal tabletop.
Master Ontwerpduo was made uniqueresting-place. Suspended chair Cageling a little different, the fact that it is suspended from the ceiling and made birdcage with soft pillows inside.
Jan Egeberg, along with two other architects, designed and recreated the oil lamp, a very severe type, Elements.
Carsten Astheymer and Gloster jointlyWe made an interesting object on which you can sit, and called it Bella. The seat of the chair consists of wooden strips, arranged at a small distance from each other.
Who said samovars - is unfashionable? E.Wolf & Co raised it, and it is very urgent kind.
The overall work of two professionals from "Ikea» K. Hagberg and M. Hagberg was "ÄPPLARÖ" - pavilion.
Another work, which has become the creation of not just one person, but two - Stephen Burks and Dedon. And they released a beautiful light-planters, which was given the name Dala.
Simple in appearance, but quite comfortable rocking chair steel products Francesco Sillitti and Gandhi. DozeQuinze Mecedora has a metal frame, so it is very strong.
Patrick Norguet, using Driade, invented creative sofa Khaima, which will serve you well in the open air, thanks to the dark visor that covers the piece of furniture from the elements of nature.
Emu The architect presented to the public a folding chair bright orange, Snooze.
You do not know that you can lay on the terrace? A colorful outdoor carpet, created by Xavier Mariscal and Vondomom will be your salvation. Las Flores de Klee has a non-staining coloring, which is very useful for street space and abstract pattern line will please the eye.
The company "Alfa Spa Design" offers you a comfortable chaise longue for relaxing Thermal.