In rural areas taken to gather for dinner with family. Abundance of food and beautiful table decorations such gatherings more like a festive meal.
Today we want to introduce our dear visitors with attributes decor that will help easily to create a cozy atmosphere in the house.
1. Jug, faience, Emile Marqu
Ceramic vessel, in which the paintingused folklore motifs have handy at the dinner table. What could be better than to drink a soft drink from a beauty on a hot summer day!
2. The chair, metal, gilding, fabric,, Baga
These chairs are very easy thanks to the metal frame, but the gilded finish, exquisite fabric seats and small ornaments - all this makes them very ornate.
Table 3. St Barts Caloptere, teak, designer Christian Liegr, Holly Hunt
This great product of East Indianoak on powerful legs revives memories of times when going for such tables all large family. And more of them could bring together all the villagers, to get married, celebrate any holiday!
4. Lamp Nacelle, collection Les Voyages, straw, Roche Bobois
The lamp with the original invoice and extravagant form will be an excellent complement to the interior in retro style.
5. Coffee couple from My Garden collection, porcelain, Villeroy & Boch
So nice on a hot sunny day,settled down somewhere in the shade in natural surroundings to drink fresh tea from this lovely cup. It perfectly complements the dish, delicate floral pattern which contributes to a wonderful mood.
6. A hammock, cotton, wood, the Forester
For those who are happy owner of a country house, it is a bed of natural fabric is very suitable to relax in the shade of the trees.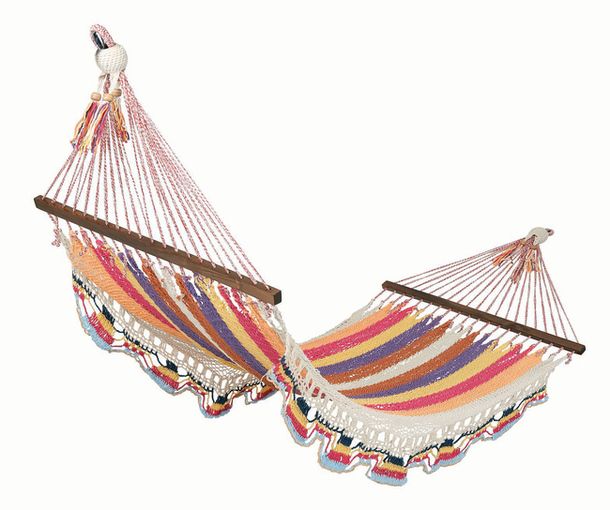 7. Kitchen towel, linen, Emile Marqu
Excellent in quality linen towelin practical use. It is easily satisfied with this content from all sorts of stains, absorbs moisture, has a low-key pastel coloring with discreet patterns - all this makes such a thing indispensable in the home and at the cottage.