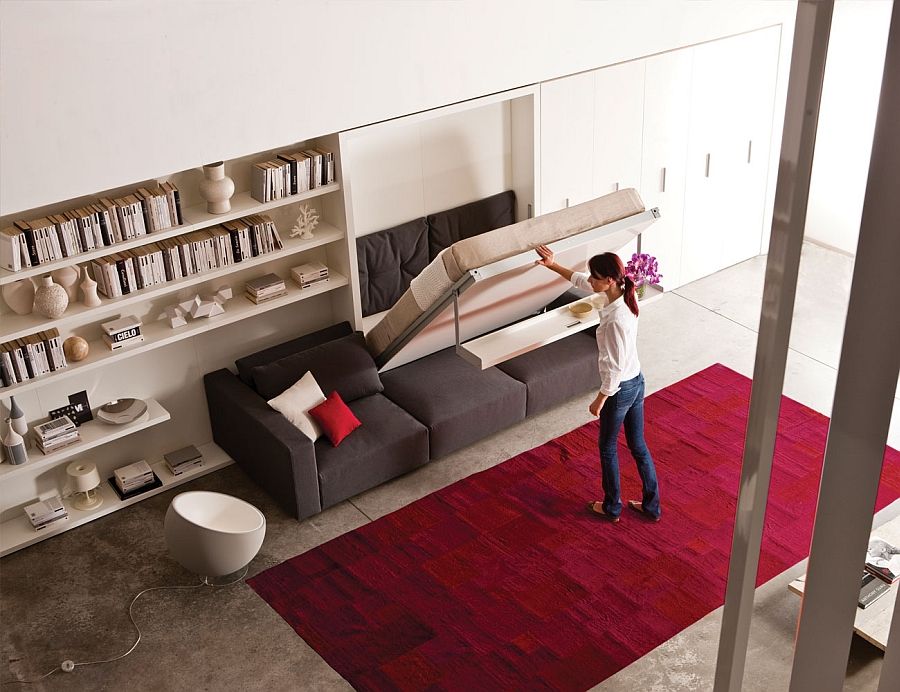 Most difficulties arise in creatingsmall housing project, because of strict restrictions are much more difficult to work with. You should correctly and rationally distribute the area and pay special attention to the furniture, choosing only compact and ergonomic model.
We are already so Sophisticated innovation and bizarre decisions that have almost impossible to surprise.
We have prepared for you a familiarity with a brilliant Murphy bed, which is presented as a universal furniture, in addition, they offer the user much more than counterparts thanks to a clever design.
Let prolёm light on the amazing triopractical systems that bring the convenience of a full-size bed like and soft sofas. Super comfortable, luxurious and adaptable to any modern interior design, they belong to the elite group of Domus Anima.
You do not even need a large bedroom, a delightful Swing is a perfect example that brings the house is much more than simply saving precious square meters.
Established that would become an integral part of any modern living, designed by R & S Clei and Pierluigi Colombo, it surprises with its style and ingenuity.
In the daytime, it is a refined bed and part of the wall with a shelf, but if necessary, the vertical drops and turns into a comfortable bed.
Much attention was paid to ease of management and practicality, allowing the user to freely adjust it in three different positions.
Reclining living room wall with a floatingshelf and ample storage space in the sofa make it an ideal solution for elegant bachelor abode or studio apartments. This is the case when a new idea in the design combines the two most essential qualities - aesthetics and ergonomics.
For a small housing can be combined sofa bed, built-in shelving and even a job in a single module. Furniture Nuovoliola performs all the tasks assigned to it.
Bed with aluminum frame and sleek contemporary cabinets adapted hassle to your whims and needs, allowing you to use every centimeter of the benefit for the homeowner.
At a time when most of the models of this line are formed in a vertical position, Circe offers horizontally folding double bed with plush sofa in the foreground.
This is one more unit is supplied withadditional sections for books and accessories, ideal for living rooms and guest rooms. Wall modular unit is an interesting thing for the interior with advanced features and functions.
It fits into most existingthemes of styles and offer a wonderful visual contrast with the neutral colors. Designed by Giulio Manzoni both elegant and stylish statement for modern living.
Experiencing difficulty from designing a small property, you will be surprised how the right choice of furniture can simplify your tasks.
Quite interesting and practical solution would be topurchase ergonomic and modular options presented above. Useful and functional solution combines aesthetics and ergonomics are able to add and to please you, not only the necessary options, and appealing visual quality worthy of stylish modern living.