Villa with sea views is on the ThaiKoh Samui. Her intricate shapes and elegant look remarkably fit perfectly surrounding nature and reflect the sky calm, blue sea and golden sand coastline.
Each villa on the beach found a place whereIt looks perfect, like a jewel in a suitable frame to him. The windows in the wall freely transmit light that is reflected from the ceiling and creates a feeling of a large, open space.
Designers came to the very demanding registration of a villa overlooking the sea, creating a harmonious fusion of decoration and the necessary equipment, clearly following the overall architectural concept.
It has everything you need for the most modern and comfortable living, kitchen equipment fully meets the most sophisticated demands.
The living room is central to the villa with viewsthe sea, and is connected with both the kitchen and with dining room. This large, bright room - a real paradise for those who want to relax and unwind.
The doors to the garden apart and turn the living room into the perfect place for entertaining.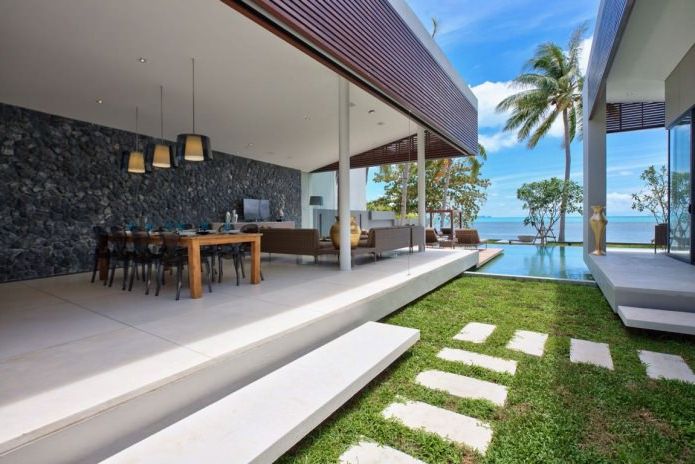 The bedrooms and bathrooms are decorated with warm colors, are very cozy, and is the quiet area of ​​the villa on the beach where you can quietly enjoy the rest and recharge energy for the new day.
Villa on the beach - a real "smart home"all of its systems, such as lighting, air conditioning, opening and closing shutters, sound from stereo systems, by using iPhone or iPad. You can also control and video surveillance.