Small private house Xomali House in the center of Mexico Citi.
Every year in the metropolitan areas and their suburbs allmore acute problem of lack of space for the construction of dwellings. And the architects task often put: to make the project so as to get a full house on a small plot.
Small cozy cottage Xomali House.
Architectural firm
DMP Aquitectura
He designed and implemented the construction of private homes (
Xomali House
) In a suburb of Mexico City (
Mexico
). Due to lack of the free territory of specialists had to place the building on a plot of just 10.7 square meters. The decision was made: to build on two more floors, to get a full house.
The concrete foundation of the house is decorated with black and white tiles.
To minimize the cost of construction works, the standard materials were used: concrete, natural wood and ceramic tiles.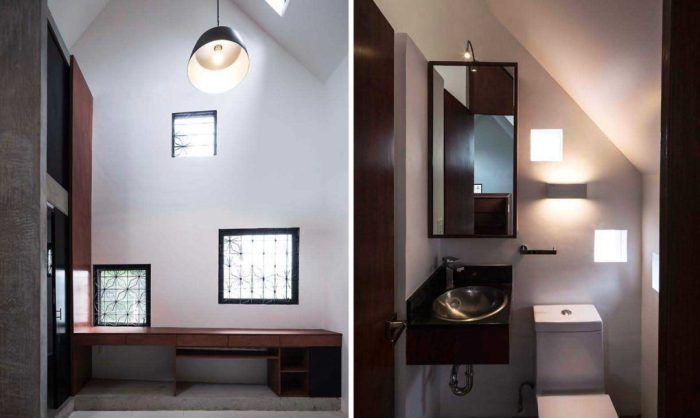 Interior light room and a cozy bathroom Xomali House.
The house has several storage rooms, hidden from the eyes.
Inside Xomali House very well executed plan. Due to the limited space in the building is used almost every meter of living space. Also, there are several storage rooms, hidden from the eyes.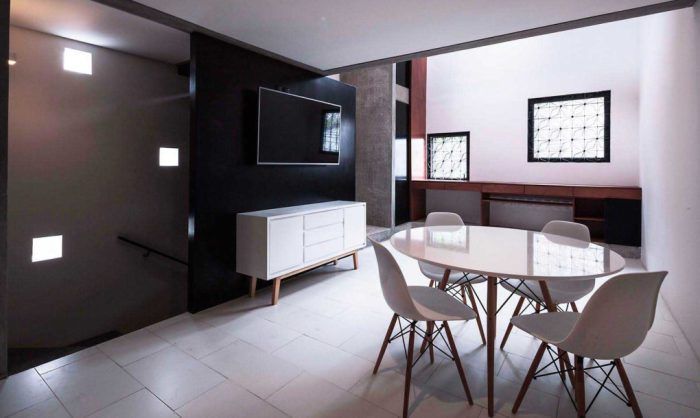 Cheap materials such as concrete and wood, combined with white gives a stunning interior.
The first floor is designed for the garage. Above there is a kitchen and a living room with dining area. On the attic floor there is a bedroom and bathroom.
Xomali House House project fits well within the dimensions of neighboring houses.
Polish designers decided to do even more creative and,
to accommodate a house with a garage for a small area, the top part sharply "bent" upwards.