Fan's Plugin House - House area of ​​only 27.8 sq. meters.
At present, almost any metropolisacute problem of space available for the construction of dwellings. In this regard, the architects perceive solution to the problem in the design of small houses that can be installed even on the smallest piece of land. Thus, a resident of Beijing (
China
) Settled in the house of an area of ​​only 27.8 sq. meters, while home price was only $ 10,000.
Architectural firm Project China's People's Architecture Office (PAO).
More recently, the architectural firm
China's People's Architecture Office (PAO)
I have received an order from the Beijing government for the development and construction of compact houses a small area. Designers are pleased to introduce the first implemented dwelling called
Fan's Plugin House
Located almost in the center of the Chinese capital.
Fan's Plugin House - a house worth $ 10,000.
The house was commissioned by the young woman. Residence her parents was a dilapidated structure, so a new structure located in the courtyard next to the old building. The unusual shape of the house due to the need not to obstruct the neighbors views.
The house, which can be collected in one day.
Thanks to a special patented technologyproduction of prefabricated panels, installation of the house was only a few hours. Thermal insulation, internal and external finishing, plumbing and electrical wiring were integrated into the modules at once at the factory. Manufacturers claim that to build the entire house they needed only a hex wrench.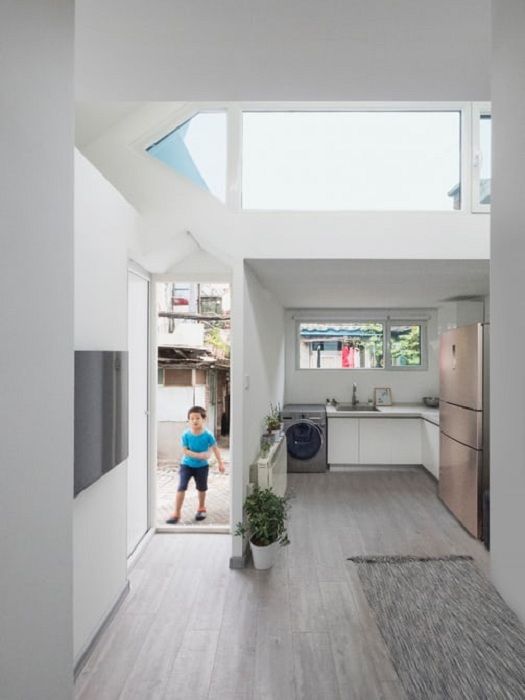 Fan's Plugin House - compact house in Beijing.
The house has a kitchen, a small living room and bedroom. The area where the house is located, has no sewage system, so the Fan's Plugin House established a composting toilet and shower.
Fan's Plugin House - modular home area of ​​27.8 sq. meters.
House area is 27.8 square meters, and the price - only 10 000 dollars. This is 30 times cheaper than the cost of apartments in the same area of ​​Beijing.
In Portugal, the architect also presented fabricated house. He claims that his You can build a home for 3 days.