Icehotel 365 - ice hotel, which is not even in the summer melt.
AT
Scandinavia
Hotels are very popular ice. Fans of Snow Queen fairy tales with happy to spend the night on the icy beds, covered with furs. That's only with the onset of the spring melt is brilliant splendor, and the hotel rebuilt again until the following year. This time the Swedish company introduced ice hotel to be open all year round. Exhausted from the scorching sun can be cooled in an ice igloo, even in summer.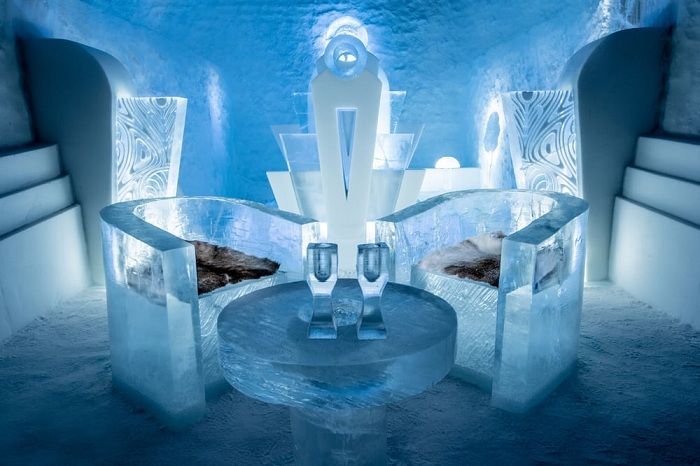 Icehotel 365 - ice hotel in Sweden, 200 kilometers from the Arctic Circle.
The well-known Swedish company for the production of seasonal ice ICEHOTEL hotels in delighted customers this time his new project -
Icehotel 365
. Due to the special cooling technology, solar-powered, this hotel will not melt in the spring, like the others, and will continue to delight guests, and on summer days.
Icehotel 365. Icy bed.
365 Icehotel is located 200 km from the ArcticCircle in the Swedish village of Jukkasjarvi. The first ice structure was built back in 1989. Today Icehotel - is not just a room with a bed. Inside the structure you can find an ice church, cocktail lounge, sauna (of course not made of ice).
Icehotel 365. Sauna.
Icehotel 365. Art Suite.
Indoor temperature is between -5 °-8 Degrees Celsius. Although bed made of ice, they are covered with reindeer skins, and at night issued thermal sleeping bags. Like other ice hotels, Icehotel 365 has a number of themed rooms called Art Suites. In each of them you can admire the stunning figures carved out of ice.
Icehotel 365. Chandelier made of ice.
With the arrival of winter ice build not only hotels, but also hundreds of other incredible objects. These
10 amazing ice structures
simply shake the imagination.