The house with a roof-screen TV in Singapore.
More recently, an architectural studio
A D lab
completed construction of a house inSingapore. Residence located in the district, which is dominated by semi-detached houses built in the 1970s. That is why the angular shape of the new two-storey mansion has created a stark contrast with the local architecture.
Architectural project from the studio A D Lab.
A feature of the house was the roof, which hascontinuation in the form of shelter, hiding part of the house with a terrace on the street side. Such a "faceted" design is an original interpretation of roofs, traditional for this quarter. The canopy also serves as a screen behind which hides a cozy courtyard with a swimming pool.
Residential house in Singapore.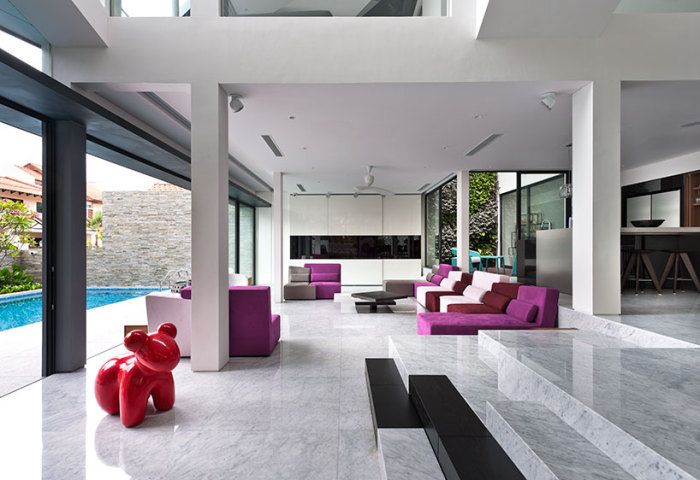 Mansion from the studio A D Lab. Living room.
On the first floor the floors are made of bright marble. The sun's rays are reflected from the polished surface, will produce a sufficient amount of natural light. In the living room there are large sliding glass doors that provide access to the pool.
Mansion from the studio A D Lab. Interior.
On the second floor interior is more "warm" colors scheme. Elements of decor and furniture made of natural wood and carpet create a sense of comfort in the rooms.
Mansion from the studio A D Lab. rest room
Mansion from the studio A D Lab. Interior.
The original residential building in Singapore.
Protective screens on the facades of buildings - a popular trend nowadays. For example, in South Korea, a family with five cats wished to obtain
house with a lattice screen.
Slats set at a particular angle, protecting hosts from overexposure to the sun in the summer, and, on the contrary, allowing the rays to penetrate into the room in winter.