Container Bar - a bar of containers in Texas.

More recently, the administrative center of Texas (USA) opened a new bar. Unusual view of the seven containers and the original colors have made it the most popular restaurant in the city.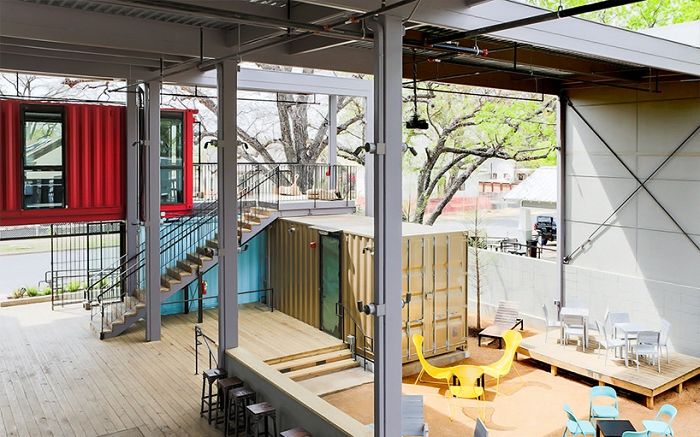 Project architectural studio North Arrow Studio.

Architectural Studio North Arrow Studiohas developed a draft bar (Container Bar), built of seven shipping containers in Austin (Austin). Bright colors and unusual division of space to attract dozens of visitors.


Multicolored bar made of 7 containers.

the bar area is 196 square meters. The containers are arranged in two tiers to form a courtyard with outdoor areas and protect it from the weather. Metal canopy gives the finished look of the whole structure.


The interior of the container.




Private recreation areas, furnished in containers.

If clients want to retire, they canto stay in one of the containers, the interior of which is decorated in an unusual style. Each of the rooms has its own design. In one container installed benches and colorful chairs, the other - a sofa. Guests do not have to miss, considering the intricate patterns on the walls.


The original design of the container.

Container bar - not only the original institution of this kind. 20 best bars in the world of conceptual prompt, where it is still possible to spend time having fun with a cocktail in hand.