One look at the photos is enough to understand that the subject of today's conversation - the original lamp.
Architectural company Busho Studio headed bytalented designer Matt Szaplonczai showed the public a collection of restored classic lamp for industrial lighting.
Studio in Budapest has developed and brought to life a series of exclusive modern art-products created from raw materials ready for recycling.
Over the years, the artist useswaste materials from warehouses and factories, collecting lamps with a touch indastrial style. Industrial models from Matt Szaplonczai enjoyed extraordinary popularity.
His masterpieces, he actively decorate cafes and restaurants, creating light using the right ambience and accentuating the eyes of customers on an eccentric design.
Stunning design elements prettyspecific, as used in their manufacture trapped in recycling steel parts and frames. For a basis of these unique interior design come from a piece of equipment, infrastructure and systems engineering elements.
As a result, life embodied great lamps that adorn the home decoration and dramatically transform public institutions.
Take a look at the following picture: Here is a spotlight in the matted metal housing and incomprehensible until the item lying on the aged wooden textural canvas.
Such lamps perfectly complement the interior of the bar,Decorated in typical industrial manner. Unique lighting stylistically combined with cold steel surfaces, spacious rooms with high ceilings and uncovered pipe ducts, as well as textured concrete walls.
Unusual bar in a restaurant decorated with five glamorous shades in matte silver design.
Round diffusers are suspended from the ceiling on a thick black electrical cable, soft dimmed lights creates a friendly atmosphere.
Minimalist lamp mesmerizing - itform has a special magnetism and attracts the attention of the public. Functionality allows you to properly direct the light from the lamp and create the necessary atmosphere.
To implement creative design wizard MattSzaplonczai of the engineering bureau Busho Studio picked up a variety of interesting structures needed before lighting department, which allowed him to create an unusual collection of objects penetrated industrial charm.
Details are thoroughly cleaned by specialistsrust, polished and oiled. Unique drawings allowed the artist to turn the soulless mechanisms fantastic creations, able to decorate any room.
Concise articles with a metal canopyand braided steel skeleton, typical of industrial premises and workshops, often used for the decoration of the restaurant or bar concept.
If fi spotlights mounted on chrome beam light glare razolёtsya hundreds in the space and fill it with subdued shimmer.
In the next picture you can see the work processdesigner of the creative project. It is the most concentrated, as it tries to apply all the necessary professional skills. His experience and talent allow to breathe life into a dead metal and give it soul.
At this time, a masterpiece created processesmassive objects graceful contours and attractive texture. He took a three-dimensional piece, manufactured from it lattice ceiling and screw the cap E27 simple transparent bulb.
Using simple tools, he creates a charming interior accessories that can not be found in regular stores.
The following two photos to your attentionIt demonstrated the process of working on one of the old companies whose products have used specialists to implement original and exciting products for the illumination of residential apartments and public buildings.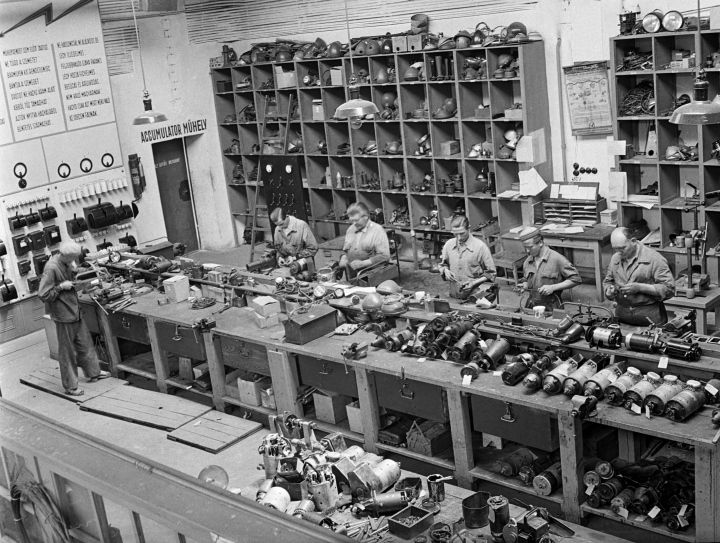 Collection of Vintage Industrial Lights onprofessional engineer Matt Szaplonczai of the project office Busho Studio - a perfect example of the transformation of soulless recycled metal in interesting light fixtures that give people the cold glow ...