Updating the traditional interior optionalIt means a global alteration of the whole room. You do not need to open the floors and the walls demolished. A small change in the color scheme can completely transform your sense of space, but only a few eclectic elements from different eras are able to produce an unexpected visual effect.
If you, dear visitors of our sitedesign, want to really surprise yourself and your guests, simply replace the old Victorian chandelier colonial times to something more modern or obvious design.
Abstract ceiling lights, huge cylindrical lampshades or contemporary ceiling easily present the interior in a new way.
This playful chandelier with glass beads becomemodern element is quite a traditional living room with a marble mantelpiece, massive window frames and stucco ceiling. And together, they look great! Eclectic image space completes the mirror in bamboo frame, as well as the composition of the chairs and couches in a retro style.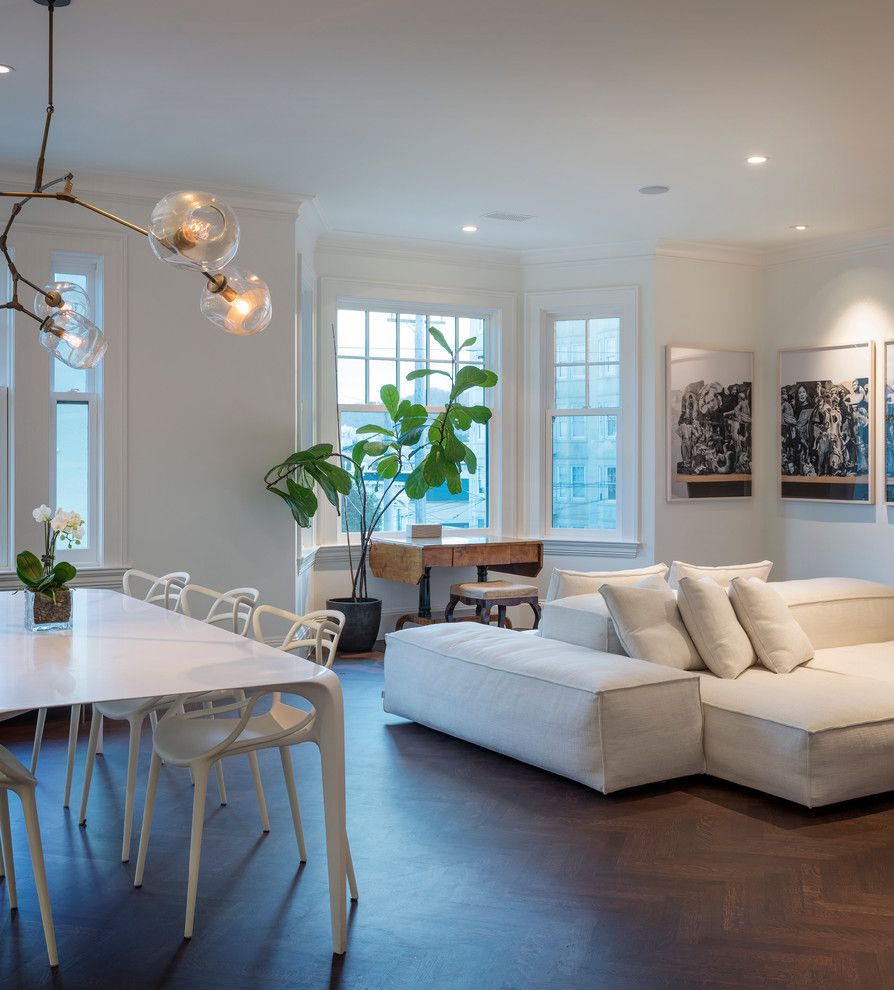 Modern chandelier with spherical shades -the most prominent element of the interior. Her gruff style form carelessly treated glass, brass and copper parts. The natural warm hue of metallic tubes successfully contrasts with the white walls and parquet emphasizes wealth.
Select a extravagant chandelier with a lot ofminiature light bulbs - a very bold decision. The best place for such an accessory - the lobby or large hall, decorated with dark wood, which will go perfectly with the black wire and the yellow-orange plafonchikami.
The interior in the photo has the expressive elements in the ancient style, including a winding staircase with carved railings and ceiling plaster stucco cartouche.
Here is an unusual kitchen in the loft-stylerough from the old red brick walls and cozy wooden floor. Its vertical space is filled with modern dark wood cabinets and cylindrical lamps in black, lined up in a row on the long kitchen island.
And it is again the raw brick and wooden floors, which are forced to coexist with ultra-modern element in a very stylish chandeliers by Roll & Hill.
This lamp can easily change the nature of a compact space such as a corner for breakfast or children's room.
Interior Brooklyn townhouse really benefited fromthe availability of a set of ceiling fixtures, suspended at different heights in a checkerboard pattern. They create an interesting image, without attracting undue attention just because of the fact that not arranged in one row and at the same level.
The snow-white decor spacious living room would have beenquite ordinary without such extravagant chandeliers resembling a bird's nest incomplete. Adaptation refers to the border the dining area, but it makes it very delicately, without weighing space.
We can still see the geometric structure of the ceiling, although the presence of an additional element is obvious.
Lamps from Bocci wander in spacelike planets in the universe, reminding that we live in an era of unprecedented progress. But around them a traditional interior takes us back to a time when this lovely house has just been built.
Playful chandelier handmade, decorated with cutlery made of silver, brings a contemporary mood in a traditional interior corner for breakfast.