Hanging Lamp by Flos Zeppelin
The dining room - one of the most important rooms of your home. Here you can spend your time and relax over a meal and small talk.
But if you properly come to the arrangement of the interior, you can enjoy not only the food but also the design.
On our site Design Museum has repeatedlyIt said that refreshment plays a key role in the appearance of any room. Therefore, especially for you some creative ideas for design of the dining room.
Mamacloud by Belux
A great luminous cloud is probably the best product on the Belux. Designed by the famous architect Frank Gehry, this beautiful, bright and airy lamp is available in different sizes.
Of course, you can order a copy of a small butOnly a huge canopy of fluffy clouds is such a stunning view. This unusual and creative lighting, will be a wonderful decoration of your dining room.
Suspended Lamp by Belux Mamacloud
The composition of large and small Mamacloud
Mamacloud by Belux in the library
Lamp by Belux in the home office
Zeppelin by Flos
This lamp - an ambitious project MarcelWanders for Flos. It seems that giant spider webs that wrapped its fragile and elegant chandelier. His light, it will cover most of the dining table and is ideal for the kitchen.
Due to its universal design it will look great in a minimalist, modern and Gothic interior.
An unusual chandelier by Flos
Zeppelin by Flos in the dining room
AGAVE SOSPENSIONE from Luceplan
If you prefer the elegance and style, thesecute pendant lamps designed Diego Rossi and Raffaele Tedesco, - what you need. Thanks to multi-level height they will look perfect and over the table, and over the bar.
In the set there is a collection of light filters (yellow, red, green and blue), so you can paint the light bulbs in shades of tropical fruits.
AGAVE SOSPENSIONE from Luceplan
Lamps from Luceplan in white
Change the color using light filters
Malagola from Catellani and Smith
Ideal lighting for a bar or cafe, as well as your dining room. An interesting form - kauri - gives the impression of a floating island of light.
The choice of available options for gold and silvercolor, so you have the opportunity to play with cold and warm hues. Softly pleated translucent material and design to create a stunning and fascinating spectacle.
Malagola Lamp from Catellani and Smith
Fucsia by Flos
Project Achille Castiglioni for Flos. These pendant lamps resemble an inverted champagne glasses. The play of light is achieved through a double glass design and many highlights.
They are ideal for illuminating the bar or table. Especially if you hang them in the 3 - 4 rows.
12 Fucsia lamp by Flos lighting table
Fucsia in kitchen lighting
Le Soleil by Foskarini
Fashionable Silicone bulb of the lightest available in bright pink, turquoise and white. Because of translucent materials, they create an interesting light gradient.
When you create designer inspired outlines festive Chinese lanterns and bring this amazing project to life.
Pink Le Soleil Dining
A set of white Foskarini Le Soleil on the kitchen light
Lamps Le Soleil by Foskarini
FLY Icon by Kartell
These colorful lights by Ferruccio LavianiIt resembles a giant soap bubbles. They are available in trendy red, pink, blue, orange, purple and green, as well as very attractive in price. Simple and brilliant solution for your kitchen or dining room.
FLY Icon by Kartell
FLY Icon in white
Transparent FLY Icon
Turquoise chandelier
Blossom by Belux
The famous designer Hella Jongerius has developedthis project back in 2007. This amazing lineup includes a set of 16 metal tubes as a flower bud. The choice available to a wide variety of styles and colors.
Blossom Lamps by Belux
their inner part is especially colorful look beautiful, who play a variety of highlights and create amazing gradients.
Bright lights
You can use them as a chandelier, or as a local lighting over the table. You can take only one lamp and attach it on the desk in the kitchen.
Convenient and compact lamp
Beat Shade by Tom Dixon
These pendant lights were designed by industrial designer Tom Dixon. The line includes a set of cup-shaped tubes of different diameter and depth.
Design is an elegant matte finish in black and gold luxurious interior. You can use the model they look at each separately, but together much better.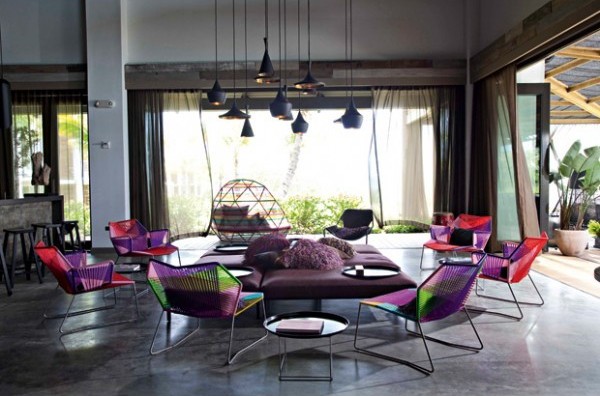 Beat Shade by Tom Dixon in the dining room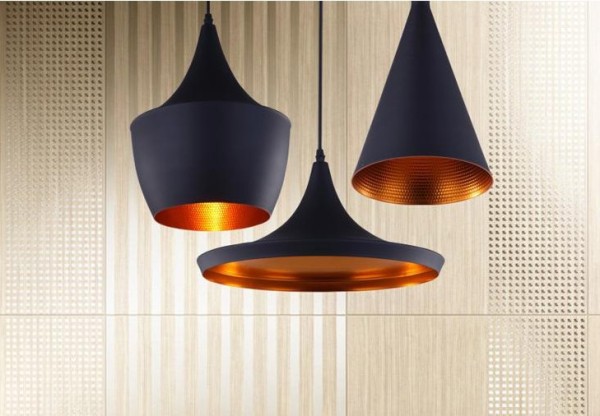 Magnificent and luxurious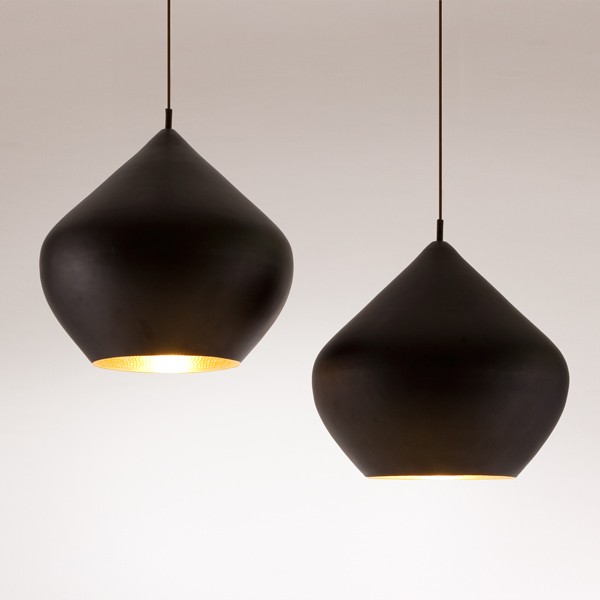 Beat Shade your home will add style and subtlety
Leaves S by Slamp
This magnificent creation by Villa Tosca Design -another example of lightness and subtlety among the variety of lighting fixtures. The lamps are available in white, red and green colors. His original and extravagant design they revive and fill the natural freshness of any interior.
White leaves