Acquisition of own living spacetoday's young people - this is a significant event, even if the apartment is small-sized, one-bedroom. But, as our needs are changing and growing, there may be a need for additional rooms. This is especially true if the family have a child, and the question of increasing or modifying the space studio situation quite clearly.
How to make alterations to studio we will tell and show you the examples of our today's article.
Moving the kitchen
The plan shows that in a private apartmentkitchen, bathroom, a small entrance hall, a main room which is the bedroom and the living room, as well as a large balcony, where you can go into the room and into the kitchen.
Often, in order to distinguish singlespace, and make it more functional use static or mobile partitions. But in a room with a single window formed in the area may not be enough light, and this is a drawback.
If this apartment is living with a young couplesmall child - in the main room will be enough space for the parents' bed, and a cot. But as the child grows, he will need other furniture, and a wide variety of things, not to mention the personal space.
Turn two-bedroom apartment in a similarhousing can be, and most importantly - it does not require the construction of additional walls. First of all, you should estimate the size of the balcony closed, ie, the loggia. If the width, the average is 1.5 m, and the same as on the plan below, the space has two outputs, - here you can place all the necessary kitchen furniture and appliances, small dining group. Of course, it is necessary to transfer communications, but if you wash before was near the window - no problems.
So, as a result of moving the kitchen on the loggia, inyou will have a spare room, which easily fit a single bed, wardrobe and a desk for your child. The living room is a place available for your desktop, additional cabinet or built-in wardrobe, which you so long dreamed of.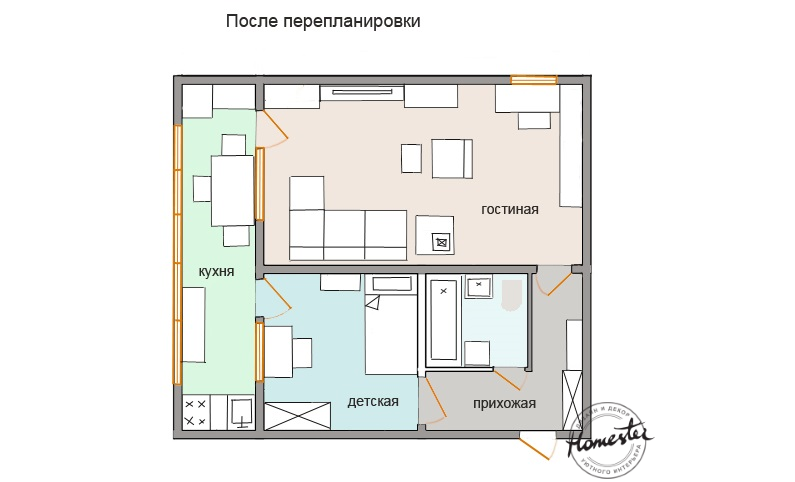 1

Using partitions
Assume that the plan does not provide for a studio apartment spacious lozhdiyu, but share a room still needed.
Pay attention to the plan, as shown below: one large room only visually (by means of a rack or console) is divided into two functional areas: the living room and bedroom. The space is perceived quite extensive, but about any privacy or proper rest can be no question.
Therefore, we propose to build a partitionat the periphery between the bedroom and living room, as well as tear down the wall (if it is not a carrier) that separates the kitchen and living room. In that case, if the original in the room except the exit to the balcony, there is a single window, after the construction of the new wall formed a complete separate room. And in the kitchen, the living room to keep the volume and functionality that were in the previous version of lay
2

1