Buzzword "studio" is now calledone-bedroom apartment, which combines all the basic areas: kitchen, dining room, living room and bedroom. In addition to them in the room is a place for work and dressing, making a house with a small area becomes multifunctional.
Should be noted that despite the apparentsimplicity in the matter in the apartment design studio, its design should be to think through very carefully, because it is only one part or zone placed correctly, can significantly reduce your level of personal comfort.
Common mistakes in design "studio"
incorrect zoning
The cornerstone of all studio apartments iszoning of the space, which further defines the ease, practicality and functionality of a small housing with open floor plan. That's why you can not relate to the delimitation of the room and negligent in hindsight, for example, setting a dining group near the bed.
Combining the dining room and the bedroom - it's quite a strange decision, comparable in absurdity with bath kitchen
Correctly:
Disposition of the studio apartments must be clear and the most convenient and logical: the kitchen should be combined with a dining room, a dining room with a living room, bedroom with dressing room and work area.
1
Low light
Even if your apartment is quite modestsizes, it does not mean that it is sufficient to establish a single source of light, for example, in the form of locust bean chandeliers. Most likely, the rest, especially the remote area one-room apartment will not be adequately addressed, in general, lead to a feeling of discomfort.
Correctly:
In small apartments, where the main roomdivided into several functional zones, partitions are often erected. And in the case of space "crushed" bad lighting and turns into an uncomfortable and rather grim. To avoid such an effect is possible if each individual area to set an artificial light source: a chandelier in the living room, hangers in the kitchen, a floor lamp in the bedroom, and more.
2
The bed at the entrance
Once in the studio apartment, completely unexpectedlysee the sleeper couch, placed near the front door. Needless to say, it is in the extreme is not practical, and retire, or just relax you will not work.
Correctly:
When planning a small apartment space,try to establish a bed can be further from the entrance. Ideally, it should be located on the opposite side or at the back corner. In the foreground is a kitchen area, a living room and dressing room.
1
Not functional furniture
Do not use in the studio environmentoverweight furniture, not having an additional function. So, not quite justified placing squat massive cabinet, sofas or chairs that are not expanded, as well as stationary tables and large chairs.
Correctly:
If you are looking for a dining table, pay attention toFolding models are compact in assembled form; bed can be replaced with pull-out sofa mattress and built-in design along the walls instead of a part of clothes, books and utensils.
2
Without Borders
One bedroom apartment in which one zoneblends in with the other, he has a right to exist. But frankly speaking, such a stop is more like a hostel and this is no different comfort, lived-in space.
Correctly:
Erect a light wall between the living room andkitchen area, select the color of the bedroom and the dining room - the material with the original invoice. Even such a seemingly minor distinction makes visual studio volume, as well as more streamlined.
Unused capacity
Quite often, studios distinguisheslarge ceiling height, at the same time, many ignore this obvious advantage, and quite rightly. As a result, in a large room, it is sometimes difficult to find a place to put the wardrobe, working area and dining table.
Correctly:
Use the opportunities provided by competent,namely, high room is appropriate to build a mezzanine floor for the bedroom area, or in a certain place to raise the level of the floor. Inside this section can be placed podium storage environment and make the apartments more than the original.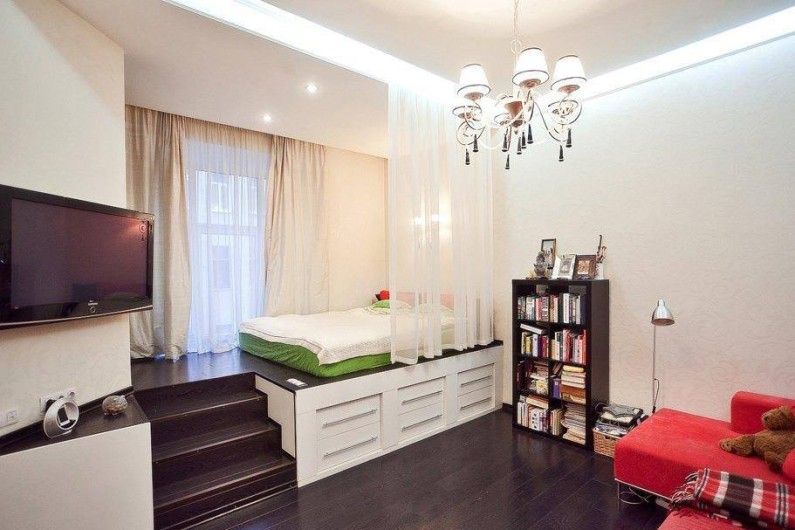 3
monotonous design
Irretrievably gone are the days when the interiorapartments used only two or three primary colors, as well as restrained texture and uniform shape. Today is the design called tasteless, almost elevated to archaism.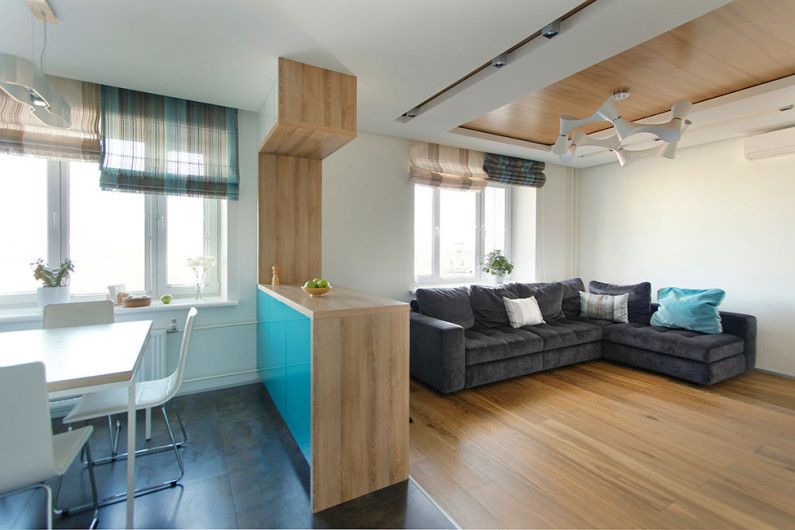 1
Correctly:
Designers are strongly advised not to be afraid ofmixing textures, especially natural: wood, metal, glass and stone. Furthermore, it appreciated the noble combination of different shades of natural color palette characteristic eclectic interior.
In the studio you can use the basic features of modern style (eg, loft, Scandinavian, Boho) and classic design trends (neo-classicism, classicism).
Poor storage
Studio - a small residentiala space where you have to go very carefully to the question of how and where to place a large number of necessary things, objects, art. Therefore, the purchase and installation of retro furniture, antiques and small organizers will not be justified.
Correctly:
The best thing you can do to furthercomfort and functionality of a small room - this design custom built closet from floor to ceiling with a variety of sections, drawers, rods and shelves, which is convenient to store clothes, appliances, linens and more.
Only if the main and quite roomy storage in a studio apartment, you might think about placing in the interior of vintage and modern designer furniture.
What are the windows!
Window decoration can be called a separatean independent sphere in interior design and in small apartments, including studios, openings or disregard, or decorate too lavishly. Of course, neither the first nor the second option is not suitable when we are talking about a house with a pair of windows with access to one side of the house.
For example, if you deprive them of furniture, you can createimpression of understatement, as in the case of registration of very thick curtains, all the attention they will take over, and partially deprive room light during the day.
Correctly:
In this case, it is important to adhere to the goldenthe middle and as a textile design select enough light flowing curtains to the floor, adding a transparent tulle or Roman blinds, soft scatter light rays in the afternoon.
1
Zone Bedrooms headed
Returning to the bedroom area in the spacestudio apartments, it is important to note that the planning situation, starting from the bed area, is not true. Speaking of the modest room, such as a studio, the bed can not do the basic, key object, which is built around the whole layout. You will feel not quite comfortable, will not be able to relax in the company of friends, and the room will seem less, if the bed is set in the center.
Correctly:
If possible, identify areas for sleepingthe outermost portion of one-bedroom apartments, as mentioned earlier. Also, it would be better if in addition to its use partition, ceiling cornice curtains or sliding doors to provide privacy at all times.